Über das Buch "Death of an Assassin"
Kriminalgeschichte des 19. Jahrhunderts: Ann Marie Ackermann schreibt über die Ermordung eines Stadtschultheißen und den Weg des Täters in den Mexikanisch-Amerikanischen Krieg
Wer hätte gedacht, dass ein 150 Jahre altes Förstertagebuch die Tür zu einem Mord öffnen würde?
Die Entdeckung dieser Geschichte fing mit der Vogelkunde an. Die ehemalige US-amerikanische Strafrechtlerin Ann Marie Ackermann ist Hobbyvogelkundlerin. Als sie einen Artikel über die Geschichte Bönnigheims Vogelwelt schreiben wollte, gab ihr der Vorsitzende der Historischen Gesellschaft Bönnigheims ein Förstertagebuch als Quelle.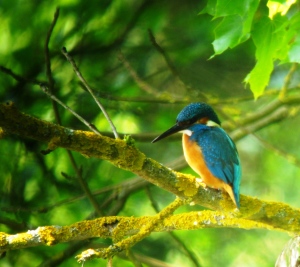 Zwischen Passagen über Eisvögel, Haselhühner, und die Jagd berichtet der Förster von einem Mord, der 1835 in Bönnigheim geschehen war. Ein Unbekannter erschoss den Stadtschultheißen. Erst 1872 wurde der Mord per Brief aus Washington, D.C. aufgeklärt. Durch gemeinsame Recherchen der Stadtverwaltung und der Forstverwaltung wurde die Richtigkeit des Briefes bestätigt. Dies ermöglichte der Staatsanwaltschaft Heilbronn den Fall zu schließen.
Das macht diesen Fall einzigartig für das 19. Jahrhundert. Kein anderer Mord wurde erst nach mehr als 30 Jahren aufgeklärt. Es war auch außergewöhnlich, dass jemand in den USA einen Mord in Württemberg aufklären konnte. Nach der Flucht des Täters in die USA, eröffnete sich ein neues Kapitel der US-Geschichte: Währen des Mexikanisch-Amerikanischen Krieges trat er in eine Kompagnie deutscher Freiwilliger ein, und fiel als erster Soldat unter dem späteren Bürgerkriegshelden Robert E. Lee.
Nachdem sie 10 Jahre als Staatanwältin im Bundesstaat Washington gearbeitet hatte, zog Ann Marie Ackermann nach Deutschland, wo sie freiberuflich übersetzte, z.B. über ausländisches und internationales Strafrecht. Sie hat mehrere Monographien und Magazinartikel geschrieben.
Ann Marie Ackermanns Buch wird von dem Verlag Kent State University Press, auf Englisch, unter dem Titel Death of an Assassin: The True Story of the German Murderer Who Died Defending Robert E. Lee am 1. September 2017 veröffentlicht. Zudem bietet sie einen Vortrag und eine Stadtführung in Bönnigheim an. Sie schreibt auch einen Blog (auf Englisch) über historische Straftaten in Deutschland und den USA.
Wenn Sie mehr Informationen über das Buch bekommen möchten, können Sie meinen Newsletter (auch auf Englisch) hier abonnieren.