No other arrow in history has set so many quills into motion as William Tell's apple shot. Tell's composure and courage have thrilled composers and poets alike. Rossini's overture and Schiller's dramatization are only two expressions of admiration. The Tell legend may well be the most famous crime story ever told.
But the apple shot was just the first arrow. Tell's next arrow found a different mark. It flew into the law library, disappearing into a gap between the paragraphs delineating murder and justifiable homicide. Seven hundred years after Tell released that arrow, scholars are still debating whether Tell's shooting Albrecht Gessler was murder or not.
Let's recap the story. Austria sought to dominate Switzerland in the 14th century and set up Albrecht Gessler as the Austrian magistrate of the Swiss city Altdorf. Gessler erected his hat on a pole on the town square and demanded that the townsfolk venerate him by bowing to his hat. William Tell, a resident of a neighboring Swiss town, visited Altdorf in 1307 with his son and refused to take the bow. Gessler arrested him. Because Tell had a reputation as an expert shot with his crossbow, Gessler decided the appropriate punishment would be to have Tell prove his prowess by shooting an apple from his son's head. He forced Tell in the only manner anyone could ever compell a parent to fire a weapon in his child's direction: by threatening to kill both if Tell didn't comply.
William Tell slipped two arrows out of his quiver, and with the first, shot the apple. But Gessler wanted to know why Tell needed a second arrow. "I would have used it to shoot you," said Tell, "had the first arrow struck my son." Angered, Gessler had Tell bound and carried to a ship to transport him over Lake Lucerne to a dungeon in Gessler's castle.
A raging storm made steering the boat nearly impossible, so the crew unbound Tell to have him help. As the ship passed near the shore, Tell took the opportunity to leap overboard and escape. He then ran to Gessler's castle and ambushed him in the woods on his way home. Gessler was killed with William Tell's second arrow. That action sparked a rebellion that led to the birth of the Swiss nation.
Some scholars defend Tell, relying on the ancient Germanic rights of Notwehr and Selbsthilfe (self-defense and self-help), rooted in Roman law. But as with modern law, these rights permit self-defense only as long as the threat persists. But William Tell, lurking in the woods to ambush Gessler, could not claim he was still under direct threat.
Others defend Tell with the German Widerstandsrecht, or right to resist an oppressive government. This right, however, is murky. It is perspective, or the outcome of a war, that separates the hero from the villain. No doubt Austria would have considered Tell a traitor had it conquered Switzerland. Nothing illustrates this point as well as John Wilkes Booth's diary. America's greatest villain devulged that William Tell was one of his role models for the Lincoln assassination. Booth thought he was relying on the same right. But can we exonerate Tell based on the right to resist and still condemn Booth?
A modern defense of Tell might center on temporary insanity. Can anyone expect a father who has been forced to shoot an apple from his son's head, and watch his own child's emotional turmoil, to function normally in the hours and days following? A lawyer could underpin this argument by painting Gessler's apple shot coercion as a war crime.
Finally, some critics insist that Tell's act was pure revenge — an act of premeditated murder. The irony of the Tell story, they say, is that it suceeds in getting the reader to rejoice over Gessler's death. It makes us feel good about a murder.
What do you think? If you were on a jury and this case came before you, how would you vote? Murder or justifiable homicide?
Literature on point:
Gail K. Hart, Murderous Fathers: Wilhelm Tell and the Decriminalization of Murder; in: Gail K. Hart, Friedrich Schiller: Crime, Aesthetics, and the Poetics of Punishment (Newark: University of Delaware Press 2005)
Hans-Jörg Knoblauch, Wilhelm Tell; in: 'Schiller Handbuch, Helmut Koopmann, ed. (Stuttgart: Alread Kröner Verlag 1998)
Text (c) 2014 Ann Marie Ackermann
Read More
Why is Friedrich Schiller called the father of the modern true crime story in Germany? It's because his debut crime story changed the genre. Schiller shifted the focus from sensationalism to motive. Here's the tale in a nutshell.
Christian Wolf,* the poor, half-orphaned son of an innkeeper, fell in love. Because he was ugly, the only way he could woo his Johanne was by showering her with gifts. To afford them, he hunted in the bordering royal forest. But that was poaching. According to law, all forest game belonged to the sovereign.
Robert, the game warden, also loved Johanne. He wanted nothing more than to eliminate his rival. Robert frequented Wolf's inn, just to investigate the sources of the innkeeper's good fortune. The he started tracking Wolf through the woods. He eventually caught Wolf in the act, forcing Wolf to sell his inn to pay the fine for poaching.
Now Wolf had no income. He had no other choice than to return to poaching. But two more arrests led to four years in prison. There, other prisoners taught Wolf how to live a criminal life. After his release, no one would offer him a job, even as a swineherd. Full of anger, Wolf returned to poaching, and when he encountered Robert in the woods, shot and killed him in revenge. Wolf then became the leader of a feared band of robbers living deep in the woods. Theirs was the only society in which he found any kind of acceptance or honor. He became a famous, feared highwayman, known as the "innkeeper of the 'Sun.'"
One year later, the band's infighting got on Wolf's nerves. He realized how immoral he'd become. Wolf decided to cross the border into Prussia, become a soldier, and lead a just life. But on the way to Prussia, a watchman thought he looked suspicious and arrested him. When the judge showed him compassion, Wolf revealed his identity. "I am the innkeeper of the 'Sun,'" he announced.
Schiller ended the story with the confession. He left out the trial and execution (although they really did occur). Rather, Schiller asks what society did that forced Wolf to turn to crime. Is a law against hunting fair when people are starving? May a law enforcement officer stake out a rival for personal reasons? Have our prisons become schools of crime?
What was the last true crime book you read? Did it focus more on the trial and punishment or on societal conditions that contribute to crime?
*Schiller provided a fictitious name. The real criminal, on whom this story is based, was Johann Friedrich Schwan.
(c) 2014 Ann Marie Ackermann
Read More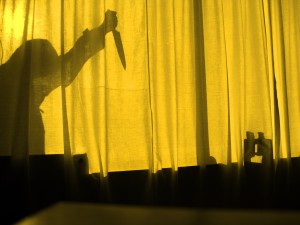 Murder mystery authors harbor a secret they don't want you to know. I won't exactly tell you the secret (it would spoil mystery books for you forever after), but I can tell you a bit about the theory behind it.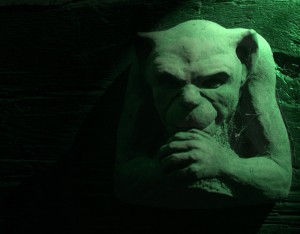 At a writers' conference for murder mystery authors near Seattle in the early 1990s, I learned a bit of the craft. Classic whodunits follow a proscribed convention. The culprit appears in the opening chapter(s), where the author identifies him or her by using a trick based on Jungian psychology. According to theory, your subconscious mind picks up on that trick and knows instantly who the murderer is. And that is what makes the mystery emotionally satisfying: you know the right guy has been caught. At the end, your conscious knowledge of the wrongdoer's identity catches up with your subconscious awareness.
Identifying the perpetrator is what lies at the heart of the murder mystery. It also underscores the difference between true crime and the murder mystery. In most cases, we already know the identity of the killer before we pick up a true crime book. As one critic put it, "It is not the identification of the killer that provides the [enjoyment] in the true crime tale (as it does in detective fiction), but the ascription of an intelligible motive for the crime."* Germany's renowned poet, Friedrich Schiller, would agree. In his first true crime story, he wrote that dissection of the criminal's motive is the driving force of the true crime genre.
What do you think prompts most people to read true crime today? Motive? Entertaintment? Curiosity about police investigations? 

Literature on point:

*Sara L. Knox. Murder: A Tale of Modern American Life (Durham, N.C.: Duke Universtiy Press 1998) pp. 110-11.

Friedrich Schiller, Criminal from Lost Honor.

(c) 2014 Ann Marie Ackermann
Read More
What distinguishes true crime from other non-fiction? If you were to measure its pulse, where in the story should you place your two fingers?
The German poet Friedrich Schiller (1759-1805) would say motive. He should know. He revolutionized the true crime genre in Germany. Before Schiller came along, the German true crime genre had a different emphasis. It provided sensational details of misdeeds and the criminal's repentance. Those details were supposed to instill a respect for the law and scare the readership into upright behavior.
But Schiller bucked convention and he admitted it. The problem with the sensationalist crime story, he wrote, is the emotional distance between reader and criminal. It leaves readers shaking their heads over behavior they don't understand. They no longer view the perpetrator as human, but as a different species. If the author really wants to move the audience, wrote Schiller, he or she must pick up a scalpel and dissect the motive. Readers must not only see the protagonist commit crimes. They must see him want to commit them.
How do psychology and circumstances interact to produce criminal conduct? That became the new focus of Germany's true crime genre. In the introduction to his own true crime story, Schiller wrote: "In the entire history of mankind, no chapter is more educational for the heart and soul than the history of human aberrations. For every great crime, an equally great force is at work."
What was the last true crime story you read? Did it focus more on motive, sensationalism, or forensic techniques?
Some literature on point:
Gail K. Hart, Freidrich Schiller: Crime, Aesthetics, and the Poetics of Punishment (Newark: University of Delaware Press 2005)
Jeffrey L. High, Schiller's Literary Prose Works: New Translations and Critical Essays (Rochester, New York: Camden House 2008)
(c) 2014 Ann Marie Ackermann
Read More
Who is the most famous true crime author in the world? Truman Capote, perhaps? Or Ann Rule?
Think again.
If you travel back to the French and German origins of the true crime genre, you'll find Germany's greatest poet. He not only wrote his own true crime story, he edited a true crime collection and gave the new genre his blessings. And you know his name. World-renowned for writing the Ode to Joy and William Tell, Friedrich Schiller (1759-1805) launched the true crime genre in Germany.
But it was France that inspired him.
Most scholars credit Francois Gayot de Pitaval with creating the contemporary true crime genre. He published a collection of criminal cases between 1734 and 1743. Although he wasn't the first author to write about crime, he offered something new. Pitaval probed the psychological depths of the criminal mind and retold the stories with narrative flair. This combination captivated the public. Pitaval's collection became a bestseller of the 18th century, sparking translations and further editions.
In Germany, Schiller was fascinated. He inaugurated Pitaval's collection in Germany by editing the debut German edition. In his introduction, Schiller recommended studying criminal cases. Crime, he wrote, is a thought-provoking, fertile field for fiction. His own true crime story also prefigured the modern true crime story. We'll look at that story in a future blog.
What is your favorite true crime story and why do you like it?
Mine is And the Sea Will Tell by Vincent Bugliosi and Bruce B. Henderson. I like the exotic location (South Sea atoll) and the fascinating way the authors cast doubt on desert island arithmatics. Four (the number of people on the island) minus two (the number of people who disappeared) doesn't necessarily equal two (the number of murderers).
Some literature on the French and German origins of the true crime genre:
Albert Borowitz, Blood & Ink: An International Guide to Fact-based Crime Literature (Kent, Ohio: Kent State University Press, 2002)
Mary Lindemann, Narratives of Dismembering Women in Northern Germany, in Women and Death 1 (Helen Fronius, Anna Linton, eds.; Rochester, NY: Camden House 2008) pp. 76-92.
Martin Rosenstock, The Anti-Detective Novel in German, English, and Swiss Literature (dissertation, Univ. of California, Santa Barbara, 2007).
(c) 2014 Ann Marie Ackermann
Read More