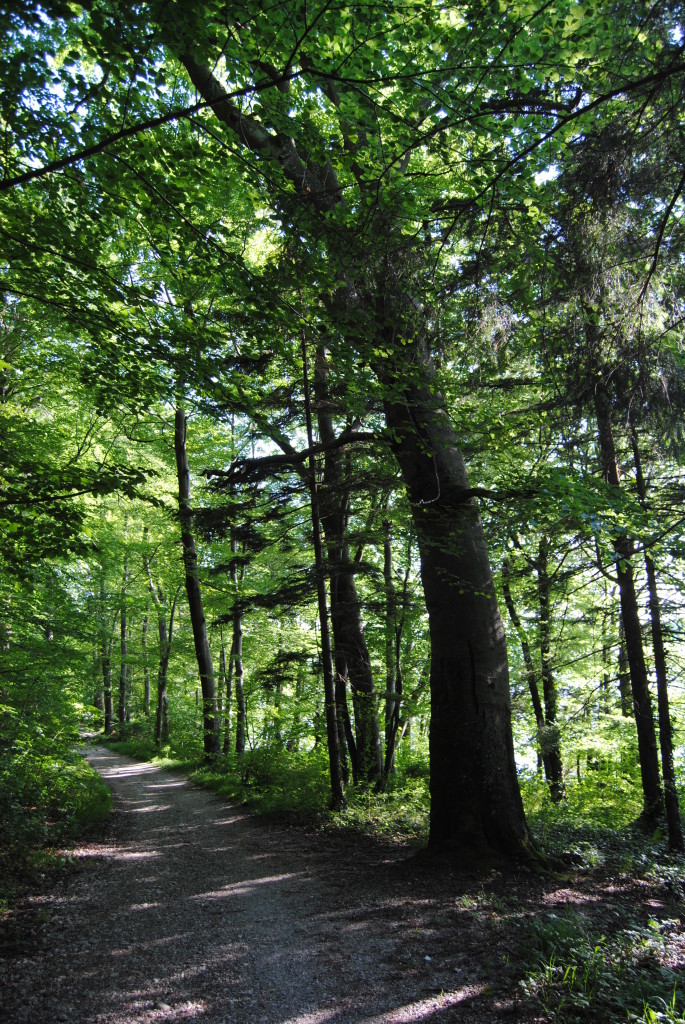 If trees could talk, what stories they could tell! This stately giant watches over the path that Bavaria's King Ludwig II walked only minutes before he died in 1886. It might be just old enough to solve Germany's greatest unsolved mystery, if only it could communicate with us.
Let me take you along the king's last walk on the anniversary of his death.
It all happened during an attempt to depose Ludwig II in June, 1886. Bavarian officials arrested king and placed him under custody at the castle Berg on the shore of Lake Starnberg. You can read more about the king's life, the arrest, and the circumstances of his death here.
A Stroll through the Beech Trees
Ludwig II wanted to take a stroll in the evening of June 13, 1886. Psychiatrist Dr. von Gudden chaperoned him. The two left the castle at shortly after 6:00 pm and followed this path through beech woods south along Lake Starnberg. They were last seen around 6:30 pm.
I took these pictures around 6:30 pm on the anniversary of the king's death to give you an idea of the setting. Although it was cloudier on the day Ludwig II died, you can still see in these picture how the shadows had begun to lengthen. The birds had also begun their evening chorus. Perhaps the king and the doctor heard the same birdsongs I did: the dizzy, upward spirals of the wood warbler, the chaffinch's rhythmic chatter, and the rich overtones of the European robin echoing through the trees.
Mysterious Death of Ludwig II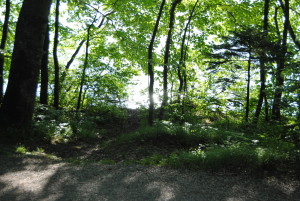 About 900 m south of the castle, Ludwig made a dash for the water. The lakeshore here is only 20-30m from the path. The big question is why the king entered the lake. Either he wanted to escape custody or he intended to commit suicide by drowning himself in the water.
A massive search began when the king and doctor didn't return as planned at 8:00 pm. Their bodies were found floating in shallow water two hours later. This cross marks the spot where Ludwig's body was found. His watch had stopped at 6:54 pm and von Gudden's at 8:00 pm. Exactly what had happened to the king and the physician remain one of Germany's greatest unsolved mysteries, and the theories range from murder to suicide to accident.
The King of Hearts?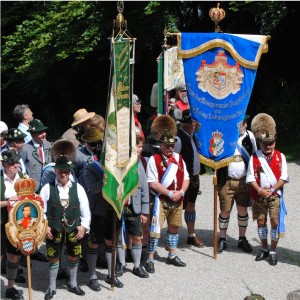 Ludwig II, the patron of Richard Wagner and builder of fairy tale castles, remains Bavaria's most popular king. Every year his devotees gather for a memorial service on the anniversary of his death. Here are a few photographic impressions.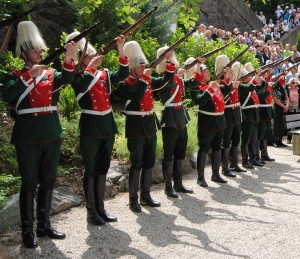 One of the speakers at the festivities made an interesting assertion: "No other European king has found his way into the hearts of the folk as did Ludwig II." Do you agree? And if not, which European king would you nominate as the king of hearts?
Literature on point:
Christopher McIntosh, The Swan King: Ludwig II of Bavaria (London: I.B. Tauris, 1982)