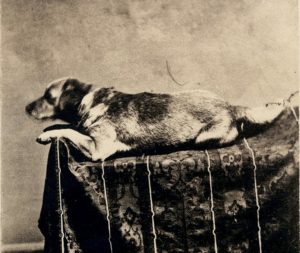 Two theories on the popularity of the name "Fido"
Fido.
Do you actually know a dog with that name? It's so cliché no one names their dog Fido anymore. Fido has instead become a generic name for dogs: "Bring Fido on vacation." "Is expensive dog food really good for Fido?"
How did Fido become so popular that the name became generic?
Dog lovers and historians have advanced two theories. One is that Abraham Lincoln's dog Fido influenced the name's popularity, the other that is was the Italian dog Fido in WWII. Which theory is right? We'll look at both against the backdrop of the popular literature of the day to find a clear winner. You might want to have a box of tissues because both of these stories are sad.
Lincoln's dog Fido: Assassinated like his master
Articles in both Psychology Today and the American Kennel Club attribute the popularity of the name to Lincoln's dog Fido.
Pharmacy records in Springfield, Illinois indicate Lincoln had a dog already in 1855. He purchased de-worming medication. That dog was probably "Fido," a yellow lab mix, of whom a few photographs survive. Lincoln decided not to take Fido with him to the White House and left his dog in the care of a friend while he was gone.
A year after Lincoln's assassination, Fido also met tragedy. A drunken man was sitting on the curb. Fido jumped up him with his dirty paws. In an intoxicated rage, the man knifed the dog. That's how Lincoln's dog Fido met his end. Assassinated like his master, said Johnny Roll, a member of Fido's adoptive family.
Fido's reputation as the First Pooch, the first presidential dog ever photographed, and as assassinated pet catapulted the name Fido into enduring popularity.
The Italian Fido: Ever faithful
A book on dog names attributes the popularity of Fido to an Italian dog belonging to Carlo Soriano. Soriano rescued the dog and named him Fido ("I am faithful"). Thereafter Fido waited for Soriano's bus every day to accompany him home from work. One day during WWII, Soriano was killed in an air raid while at work. Fido continued to wait for his master at the bus stop every day – another fourteen years – until the dog's death. Fido's faithfulness received worldwide attention. Italy even erected a statue of Fido to commemorate his faithfulness.
So which dog made the name Fido famous?
If you peruse old newspapers, you'll find dogs named Fido going all the back to the 18th century. Lincoln's dog Fido wasn't the first with that name. After Lincoln's death, however, the name occurs more frequently in online newspaper searches, but it's hard to tell whether that's due to increased popularity of the name or the availability of more newspapers for that time period.
An 1875 review of clerical records of registered dog names a good thermometer reading of the popularity their popularity. Fido was tied for the third most popular, preceded only by Jip and Carlo. Another survey of dog licensing records in Bakersfield, CA indicates that Fido had almost completely dropped out of the list by 1900. Only one person named their dog Fido. A Minneapolis paper of 1901, however, indicates that Fido was still a popular name at a dog show.
By 1906, Fido begins to appear as a generic term for dogs. It was used as the name for a fictional dog in a mock trial. And in 1910, a satirical article about dogs appeared by an author named "Fido."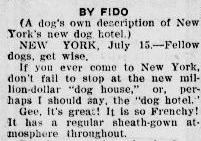 All that indicates that Fido was popular canine name long before the Italian Fido was even born. Hence, it's Lincoln's dog Fido, the assassinated pet, to whom we should attribute the enduring popularity of the name.
Literature on point:
"Administrator's Notice," Mexico Missouri Message (Feb. 22, 1906).
Matthew Algeo, Abe and Fido: Lincoln's Love of Animals and the Touching Story of His Favorite Canine Companion (Chicago Review Press, 2015).
Dog Names: "The Most Popular of the Pack (1875)," Worcester (Mass.) Gazette via the Wheeling Daily Intelligencer (Aug. 24, 1875).
Dorothy Meserve Kuhnhardt, "Lincoln's Lost Dog," Life (Feb. 15, 1954).
"Man's Best Friend," Minneapolis Journal (Dec. 14, 1901).
Laurie Bogart Morrow, The Giant Book of Dog Names (Gallery Books, 2012).
"Popular Dog Names in the Early 1900s," woofreport (April 12, 2017).
Randy Shore, "Names Increasingly Reflect Dogs' Integration into the Family," Vancouver Sun (Oct. 189, 2009).
Fido, "There's Nothing Nowadays Like Being a Flossie Little Dog," The Spokane Press (July 15, 1908).