A monster… roaming the streets….
With the moniker "Girl-Cutter," he fills the city with terror….
With these words, the Bavarian newspaper Rheinbayer spread goose bumps among its reading public. It was April 1835 and a serial criminal was on the loose. Augsburg called him the Mädchenschneider, or "girl-cutter." He didn't kill. Instead, he took his pleasure by slipping a knife out of his coat and slashing young girls. He was a serial stabber, or piqueur, who terrorized Augsburg from 1819 until his arrest in 1837.
What makes this case particularly interesting is how one young girl was spared from serious injury. She was saved by her corset. The annals of true crime are full of women whose corsets – and the steel or whalebone stays in them – saved them from knives and bullets. But most of these stories are from the late 19th and early 20th centuries. This is the earliest case I've found – and also the youngest victim saved by her corset. We'll take a close look at her story, and then we'll take a brief romp through other cases in which feminine fashion foiled the fiend.
Girl-Cutter of Augsburg
Augsburg's girl-cutter typically attacked at night. Augsburg documented 39 attacks, but the perpetrator later admitted to 50. He stabbed his victims severely enough they required medical attention; some of them needed surgery. During the crime spree, women feared to leave their homes in the dark and men began to arm themselves.
Augsburg finally apprehended a vintner named Carl Bertle (sometimes spelled Bartle) in 1837 after someone recognized him. He confessed. Police found a variety of stilettos and knives in his apartment. Bavaria convicted Bertle and sentenced him to hard labor.
Brief sketches about the girl-cutter of Augsburg appear in psychiatric casebooks as an example of piquerism, the perverse sexual urge to penetrate the skin of others. The London Monster, who attacked women between 1788 and 1790, is another example of a piqueur.
Eight-year-old girl saved by her corset
The Bavarian newspaper article described an attack in 1835:
Augsburg, April 10. Yesterday morning at 10:00, six girls aged from about eight to ten years wanted to go to their sewing lessons with Madame Lesuire [sic]* in the Wintergasse [an alley]. They chose to take a shortcut through a frequently used passage by the garden of the brewery "Little Blue Tankard." The path there isn't very wide, so the girls had to walk in single file. The last one, the daughter of trade commissioner who has been gone on business trips for most of this year, was about to go through the little door that leads to the Hunoldsgraben [a street], when a man with green glasses and a black greatcoat, whom the other girls had likewise noticed, drew a cutting instrument from his coat and injured the poor child with a foot-long incision over her left armpit. Fortunately, her corset was made of particularly strong material so that the cut didn't penetrate too deeply into her flesh. Although she bled severely, it wasn't a gaping wound. Madame Lesuire, to whom the screaming girls ran, took the wounded girl immediately to the police, where all conceivable measures were immediately taken to catch the wretch, but unfortunately, the search has been fruitless.
Another source, Hitzig's Neue Pitival, describes the wound as a light incision six inches long, leading from the left armpit to above the left breast. The victim was only eight years old. Although I was surprised that a girl as young as eight wore a corset, a period dictionary confirms that the German word used in the newspaper, Schnurleibchen, does indeed refer to a corset rather than a laced bodice.
The staying power of the corset: an overview of other cases
Here's a snapshot of a few of the many other cases I found on the internet. Our eight-year-old girl wasn't the only one saved by her corset!
1888, Barnsley, England. Mimi Matthews' delightful history blog offers an example of an estranged husband who stabbed his wife after kidnapping their baby from her. He then invited her over to see the baby. When she arrived, he stabbed her. The stays of her corset were strong enough to break the blade – and save her life.
1890, Omaha, Nebraska. "Was saved by her corset," reported the newspaper. William Schipp tried to shoot Dora Bowman in a lover's quarrel, but the bullet struck her steel stay and fell to the ground. Schipp was convicted of assault and imprisoned.
1897, Troy, New York. "Saved by Her Corset Steel," read the newspaper headline. A bullet deflected off a young woman's undergarment and a young man admitted causing the shot while fooling around with a pistol. The strange part about the case was that he told the police the woman was his wife, and she denied knowing him. The man was arrested.
1897, Plainfield, New Jersey. A tramp entered the home of Mrs. A. Moebius while she was alone, preparing dinner, and demanded money. She refused. When she screamed, he stabbed her in the breast. Fortunately for her, the blade of the knife struck one of her corset stays and broke. She fainted and the tramp ran away.
1898, Wellington, New Zealand. One woman walked into a department store and shot her estranged business partner. The bullet ricocheted off the steel boning in the victim's corset, leaving her alive to testify against the perpetrator.
1906, San Francisco. A stranger entered the rear of Mrs. George Alger's house and tried to stab her. She told the police her corset saved her from injury and her screams drove him away.
1908, South Orange, New Jersey. Mrs. Edward H. Graves was saved by her corset when a neighbor cleaning his gun accidentally discharged it. She fainted. The physician who examined her determined that the bullet bounced off the steel in her undergarment.
1909, Chicago. Dr. Jennie A Beardsley, a physician, was stabbed twice in the breast and stomach when she answered a knock at her back door at night. "A steel ribbed corset saved her life," the newspaper reported. The attack was part of a failed attempt at extortion.
1913, St. Petersburg, Florida. Two residents in a boarding house got into a row and one stabbed the other. The victim was saved by her corset, the newspaper wrote. "The blade of the knife, a vicious looking weapon, was broken by the force with which it was driven."
No matter what their age, the women of the past had a message for criminals. No matter how feminine they appeared, they could be as tough as steel.
Do you know of any other cases of a crime victim saved by her corset?
Note:
* The teacher in the Girl Cutter case was Julie v. LaSuire, who appears in an 1859 Augsburg directory as an Arbeitslehrerin, or teacher of a trade. Her address was O. Hunoldsgraben 86.
Literature on point:
Rheinbayer, April 23, 1835, p. 195 (translation mine).
J.E. Hitzig, "Der Mädchenschneider in Augsburg," Annalen der deutschen und ausländischen Rechtspflege 31:196-233 (1841)
Wilhelm Ludwig Demme, Das Buch der Verbrechen 281
Read More
London, 1788. A fiend terrorized the city with his series of crimes. The "London Monster," as the city dubbed him, didn't kill, rape, or ignite.
He slashed.
Karen Lee Street has just launched a novel about the London Monster. She joins us today to talk about the true crime history on which she based her story.
Karen is a writer with extensive international experience in feature film script development. She has taught screenwriting at universities and professional training programs throughout Europe.  Although born in Philadelphia and now in Australia, Karen has lived in London most of her adult life.
Edgar Allan Poe and the London Monster is the first novel in her mystery trilogy. A summary of her novel follows at the end of the post.
Ann Marie: The London Monster was a serial criminal, but not a murderer or rapist. What did he do?
Karen: From 1788 – 1790, over fifty women in London complained of being attacked by a man who was dubbed 'the Monster'. His victims were primarily attractive young women of comfortable means (with nice clothing) who were slashed across the buttocks with a sharp blade that ruined their skirts and often cut into their flesh. The victims also complained that the Monster abused them verbally. The crimes caused mass hysteria and satirical cartoonists of the day drew images of ladies wearing copper pots to protect their posteriors. It is important to note that in 1790 it was a felony to maliciously cut or deface a piece of clothing while it was worn by another person, a crime that could be punished by hanging or transportation.
Were the London Monster's crimes unique?
The Monster's assaults could be labeled piquerism, which is defined as deriving sexual arousal from piercing another person's body, most often the buttocks, with sharp objects, sometimes to the point of causing death. It is not a terribly common crime and many recorded cases are more brutal and gruesome than the Monster's exploits. While the nature and number of the attacks suggest that the perpetrator (or perpetrators) might have been a piquerist, the descriptions of the attacks by his victims do not come across as sadistic or murderous, but rather as if he (or she?) were ridiculing the victims. In writing the novel, I had to play profiler and consider what the motive might be. An uncontrollable compulsion — a paraphilia — such as piquerism did not interest me as a motive for my perpetrator. I wished to explore a pre-meditated act driven by emotions that are easier to identify with such as jealousy and the desire for revenge.
How many victims were there?
 Over fifty women claimed to have been attacked by the London Monster.  Some of these claims did not fit the perpetrator's modus operandi, however. For example, one woman was scratched on the nose by a pin when she (at invitation) leaned to smell an artificial nosegay. As it had been noted in the press that the Monster's victims were attractive and these ladies gained a great deal of attention, some false claims were made. For example, Lady Eglantine Wallace stated that she had been accosted by the Monster, but later in court airily admitted that her story was a fabrication, one of her little jokes.
Did London even have a police force in 1788?
The Metropolitan Police was not established until 1829 and up until 1749 law enforcement was conducted by private citizens; thief-takers who pursued wrong-doers for a fee; and night watchmen who were often elderly or recruited from the workhouses. Corruption was a problem and the system was not considered very effective. In 1749, magistrate (and author) Henry Fielding founded the first unofficial British police force: the Bow Street Runners, who were connected to Bow Street Magistrates' Office in Covent Garden where a group of magistrates headed criminal investigations. The Runners served writs and arrested individuals under the instruction and authority of the magistrates, and they were paid with government funds. The Bow Street Runners did not have a specific uniform, but were permitted to carry a truncheon with a crest to show their authority.
How did they try to catch the Monster?
Victims made formal complaints of being attacked to the Magistrate's Office — magistrate Sir Sampson Wright was in charge of the London Monster investigation. The Bow Street Runners were given descriptions of the victims' attacker, but unfortunately these descriptions varied a great deal, which did not make it easy to round up suspects. The Monster's activities accelerated after the Queen's birthday ball on 18 January 1790 when six women were accosted and newspapers published incendiary accounts of these attacks. The wealthy John Julius Angerstein became very interested in the Monster's victims and personally interviewed these ladies, writing down their testimonies and summing up their appearances. Angerstein gathered donations from various gentlemen and advertised a reward of fifty pounds for the capture and an additional fifty pounds for the conviction of the Monster. Posters were put up around London on 29 April 1790 regarding this reward and describing the Monster as about thirty years of age, average in height, rather thin, pock-marked with a large nose and light brown hair.  The notice also instructed servants to take notice if they discovered blood on a man's clothing and cutlers to watch for any man asking to have a weapon sharpened. On 7 May 1790, Angerstein distributed a second poster that noted two culprits might be at work and gave a description of the Monster's clothing during his various attacks.  Vigilantes were formed to patrol the streets at night and one such group wore 'No Monster' badges to make it clear to ladies that they were protectors rather than perpetrators; none of these groups were successful in stopping the attacks or capturing the Monster.
One man was convicted and jailed, but you think he was innocent. Why?
 First, the descriptions of the London Monster given by his victims varied so wildly.  Some journalists posited that there might be two attackers at work or possibly an actor with a facility for disguise.  On 13 June 1790, Anne Porter, one of the Monster's victims, claimed that she saw her attacker and her fiancé, John Coleman, chased after him and persuaded the man she accused to accompany him to the Bow Street offices. The accused did not match the initial description Miss Porter had given of her attacker, but she stuck to her claim and her fiancé Mr. Coleman collected the one hundred pound reward. She married him in April 1791.
The accused had two trials, both of which were farcical, with seemingly little attempt to operate under the supposition of 'innocent until proven guilty'. The first trial on 8 July 1790 failed to present substantial evidence regarding the accused's guilt, such as a weapon on his person or at his lodgings, and he was not identified without doubt by most of the victims. Indeed, those who thought him to be the wrong man were not called to testify. His moral character was criticized on the basis of his impoverished living circumstances and for generally being considered a pest by attractive ladies who had suffered his verbal 'compliments' in the past.  When the accused took the stand, he was roundly hissed by the audience as were his character witnesses and those providing alibis. The jury found the accused guilty, but his sentence was deferred until the opinion of the twelve judges was heard; he was imprisoned in Newgate.
Soon after, Theophilus Swift published a pamphlet The Monster at Large that claimed the accused was innocent and his accusers had been lying. On 10 November 1790, the judges met to discuss whether the accused had committed the felony of willfully cutting clothing; it was decided that his offence did not fall into that arena and a retrial was granted for the misdemeanor of willfully and maliciously cutting a person. At the second trial on 13 December 1790, Theophilus Swift conducted the defense. Unfortunately, this 'defense' was highly eccentric and did little to truly assist the accused. He was convicted again and imprisoned for six years in Newgate.
One fictional aspect of your novel is the inclusion of Edgar Allan Poe. What role does he play?
 Poe plays sleuth, along with his fictional character the great ratiocinator C. Auguste Dupin, thus adding the element of alternative history. Poe's grandparents had been actors on the London stage during the Monster's reign and his grandmother immigrated to America not long before the accused's release from Newgate. In my story, Poe is sent a collection of letters, allegedly written by his grandparents; these letters suggest they were the true perpetrators of the Monster's attacks.  As the story begins, Poe's goal is to prove the letters forgeries. He cannot bear the idea that he might come from 'bad blood'.
Why did you think of using Poe as a character?
 I knew that I wanted to do something with the story of the London Monster as the trial scenes in particular had captured my imagination.  I was given a collection of Poe's stories with an introduction that noted that his grandparents were actors in London and that Poe had lived in London for a time as a child. For some reason that stayed with me. I don't remember the a-ha moment of thinking to use Poe, although I do remember being delighted to discover that the dates worked.  I liked the idea of Poe as an investigator who would need to call on the highly objective ur-detective Dupin to help him with his family mystery as Poe could not conquer his emotions. I felt that Poe's personal history made his reactions to his strange (fictional) inheritance plausible. Poe was orphaned before he turned three and he and his two siblings were sent to different foster families.  He expressed great pride in his mother's career as an actress and I felt that pride would extend to his grandmother who was also a very talented actress. Finding out that she was a criminal would be quite a blow.
Thank you, Karen, for your insights into such an unusual chapter of London's history.
Here's the scoop on Karen's book:
SUMMARY:
Summer, 1840.  Edgar Allan Poe sails from Philadelphia to London to meet his friend C. Auguste Dupin, in the hope that the great detective will help him solve a family mystery.  For Poe inherited a mahogany box containing a collection of letters allegedly written by his grandparents, actors who struggled to make a living on the London stage.  The mysterious letters suggest that the couple played a more clandestine role as the 'London Monster'— stalking well-to-do young women at night on the city's streets, to slice their clothing and derrières.
Poe hopes to prove the missives forgeries; Dupin wonders if they are real, but their content is fantasy.  Soon Poe is being stalked by someone who knows far more about his grandparents and their crimes than he does.  And then he remembers disturbing attacks made upon him as a child in London … Could the perpetrators be connected?
Read More
Real quick now – which saint killed the dragon? What's the first name that comes to your mind?
St. George. Is that what you thought?
It's what I thought, too. St. Mark's Square in Venice sports two monolithic columns with figures on top. One is a winged lion and the other a man killing a dragon. St. George, I assumed, when my husband and I visited the square. I mentioned it to our gondolier.
"No! Not St. George!" he said. "It's San Marco. San Marco is Venice's patron saint."
"St. Mark also killed a dragon?" I asked.
He shrugged his shoulders. "I dunno. But it is Marco. Not George."
 St. Mark, the winged lion of Venice
His answer made sense. Venetian merchants, according to legend, stole the relics of St. Mark the Evangelist from a church in Alexandria in 828. They brought the bones back to Venice. (Some scholars claim the merchants made a major blooper and actually made off with the skeleton of Alexander the Great!) St. Mark's relics now reside in Venice's Basilica di San Marco. The winged lion is a symbol for St. Mark, so that explains the figure on the other column.
But my quick perusal of St. Mark's history revealed nothing about dragon mythology.
 St. Theodore of Amasea and the dragon
Are gondoliers really infallible when it comes to Venice's history? Maybe not.
You can imagine my surprise when I checked our guide book back at the hotel. It said the dragon slayer at St. Mark's Square was St. Theodore. I'd never heard of the fellow, but the author said Theodore, a simple Greek soldier and minor saint, was Venice's patron before Mark's relics made the trans-Mediterranean trip to the floating city. St. Theodore enjoyed more popularity in the Eastern Orthodox Church. But in the west, he was too minor a martyr for Venice. The Venetians felt compelled to search for another patron in 828. They wanted someone who could offer more protection.
The Eastern Orthodox Church holds the clue to the dragon. Theodore's iconography often shows him spearing the vile serpent. And sometimes Theodore's even depicted accompanying St. George.
So that's where the dragon comes in. The two columns, with the dragon slayer and winged lion, represent the floating city's two patron saints. That makes sense, right?
 Mark Twain in Venice
Enter Mark Twain. He visited Venice in 1878 and came up with a more charming explanation for the winged lion of Venice than any historian ever did. It came to him while he was viewing Tintoretto's painting Paradise in the in the Doge's palace. It offers a view of heaven.
There are fifteen or twenty figures scattered here and there, with books, but they cannot keep their attention on their reading – they offer the books to others, but no one wishes to read, now. The Lion of St. Mark is there with his book; St. Mark is there with his pen uplifted; he and the Lion are looking each other earnestly in the face, disputing about the way to spell a word – the Lion looks up in wrapt [sic] admiration while St. Mark spells. This is wonderfully interpreted by the artist. It is the master-stroke of this incomparable painting.
Lions, in the form of statutes, paintings, and even the city flag, are everywhere in Venice. They're often depicted holding a book. If Mark Twain is right, that book isn't a Bible. The winged lion of Venice is holding a dictionary and trying to help us with our spelling. And that gave me a whole new way of interpreting Venice's artwork.
Here the lion is poised on the bow of the royal barge in Venice's naval museum, announcing to the world that the royalty, of all people, knew how to spell.
You can see by his expression in this picture how disgusted the winged lion of Venice is with the chap to the left. He must be a really bad speller.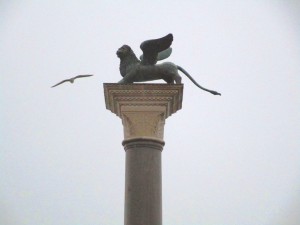 In St. Mark's Square, the lion also appears to have given up on St. Theodore. He's facing in the other direction, looking out on the tourists, hoping to find a writer among them. And if he does, he whispers down letters to them; he breathes long-sought words across the expanse of the piazza.
I like that lion. And thanks to winged lion of Venice, I'll never see my dictionary the same way again. From now on it will have soft, golden fur and outspread wings, ready to take my writing to greater heights. And should I ever misspell a word, I expect it to roar and bite me in the buttocks.
As it well should.
 Did you notice Twain's spelling error? Do you think he did it on purpose? Is this another example of Twain's sly sense of humor?
Literature on point
Jenny John, Venedig (Munich: Gräfe und Unzer, 1997).
Mark Twain, A Tramp Abroad (public domain).

Read More