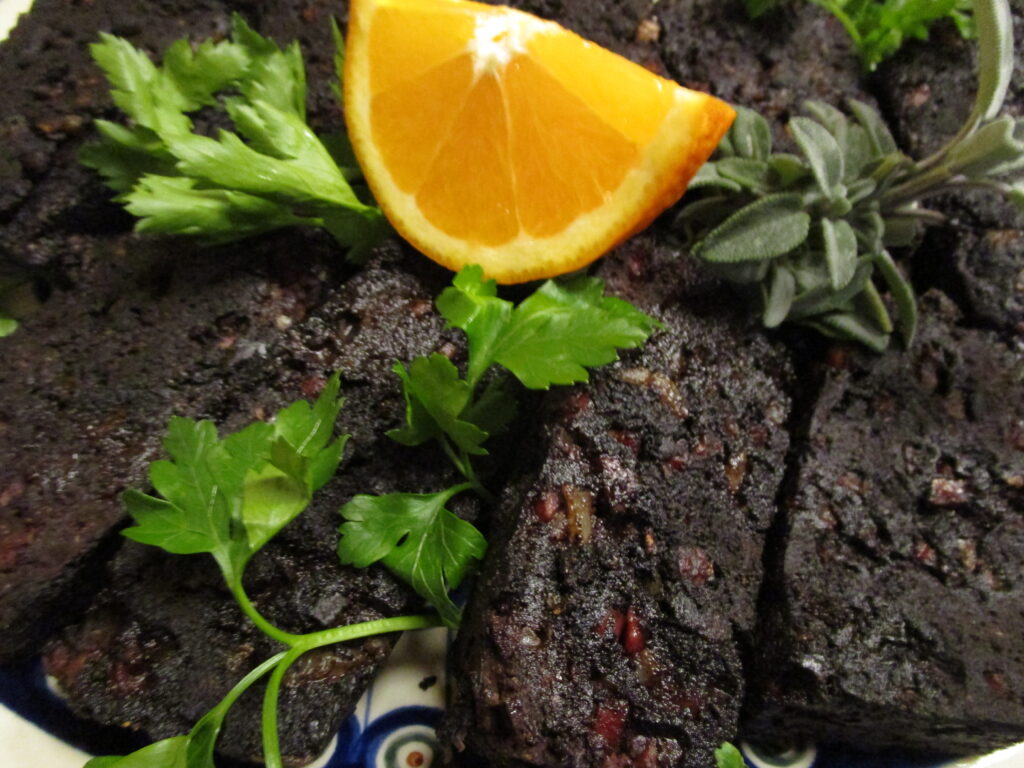 Blood Pudding
I've never had English blood pudding before. I'd heard of it, of course, but have never had the opportunity.
It's not that I'd be adverse to the blood. With a German father and Czech mother, I grew up with an array of European foods, and blood sausage was one of them. Zungenwurst, or blood and tongue, became my favorite luncheon meat before I was old enough to realize that blood was actually an ingredient.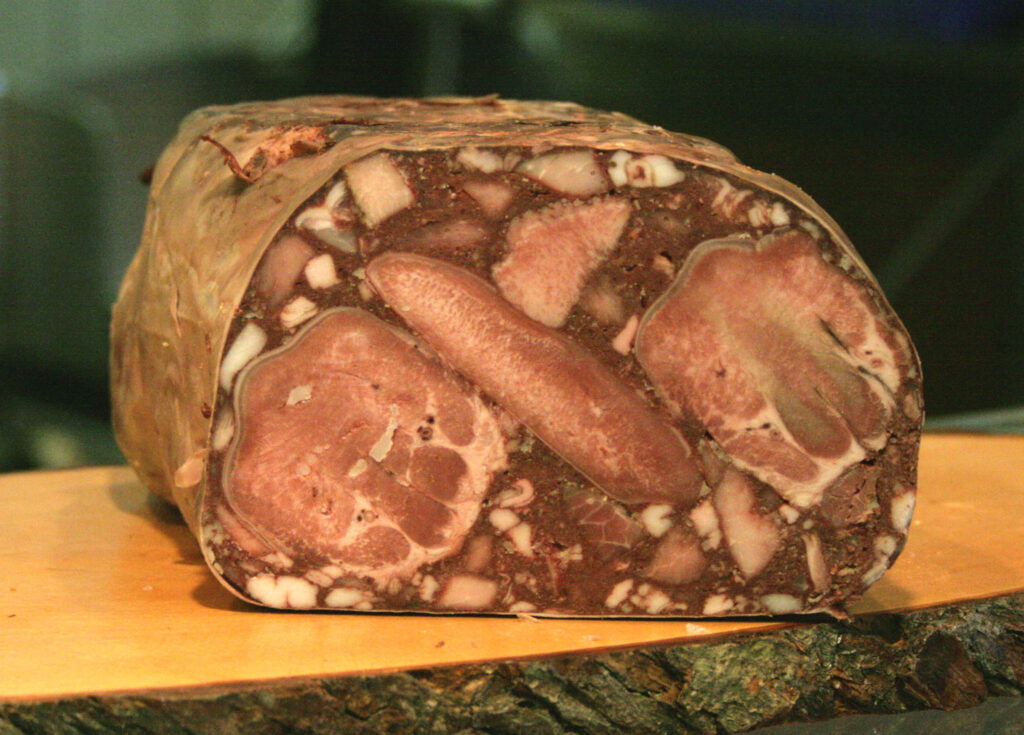 Then there's Blutwurst, or blood sausage. It's a popular in Württemberg as part of the Schlachtplatte (butcher's platter) served at the local Besenwirtschaften, Württemberg's temporary pubs for homemade wine. Liverwurst, a slice of pork belly, sauerkraut, and homemade bread round off the plate. This blood sausage sports a distinct nutmeg flavor and is soft enough you can spread it on your bread.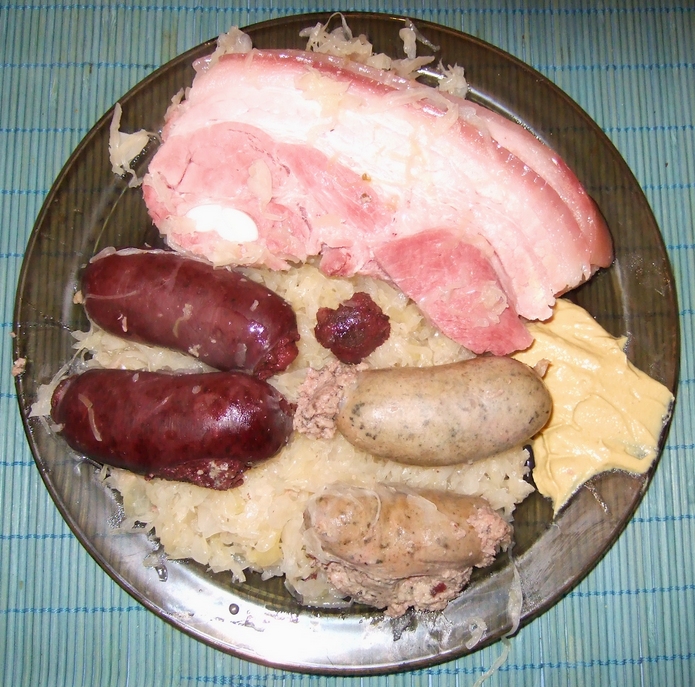 Then along came eatmedieval, an online course on medieval cooking, all based on the Christmas feast of an English bishop. The course included a recipe for bread and blood pudding. That was my opportunity – I could now make blood pudding myself!
Mom, the blood pudding was the biggest surprise!
I spread the eleven dishes we learned in the course over the twelve days of Christmas. We kicked Christmas Eve off with a rabbit stew, and then moved on to delicacies like a boar's head, venison steaks, medieval gingerbread, and a chastelet. I prepared the blood pudding, along with a dish called goose in hochepot, towards the end. I was curious how the other members of the family would react. As Germans, their only culinary experience with blood was German blood sausage.
Bread crumbs
There's a huge difference, as it turns out. Our medieval blood pudding recipe came from the Forme of Cury, the oldest known cookbook in the English language (14th century). It included bread crumbs, which made it as stiff as a meatloaf. In fact, the teacher had us frying the pieces in goose fat at the end. You could never do that with German blood sausage. I remember once, when I was too ill to get out of bed and my husband offered to cook. Don't worry, he said. I'll make some blood sausage pizza. The German blood sausage, which was nice and congealed while cold, liquefied in the heat of the oven. When he served me the pizza, there was blood running around the top. (Yes, I ate it anyway. And yes, I recovered too.) The medieval blood pudding would have never done that.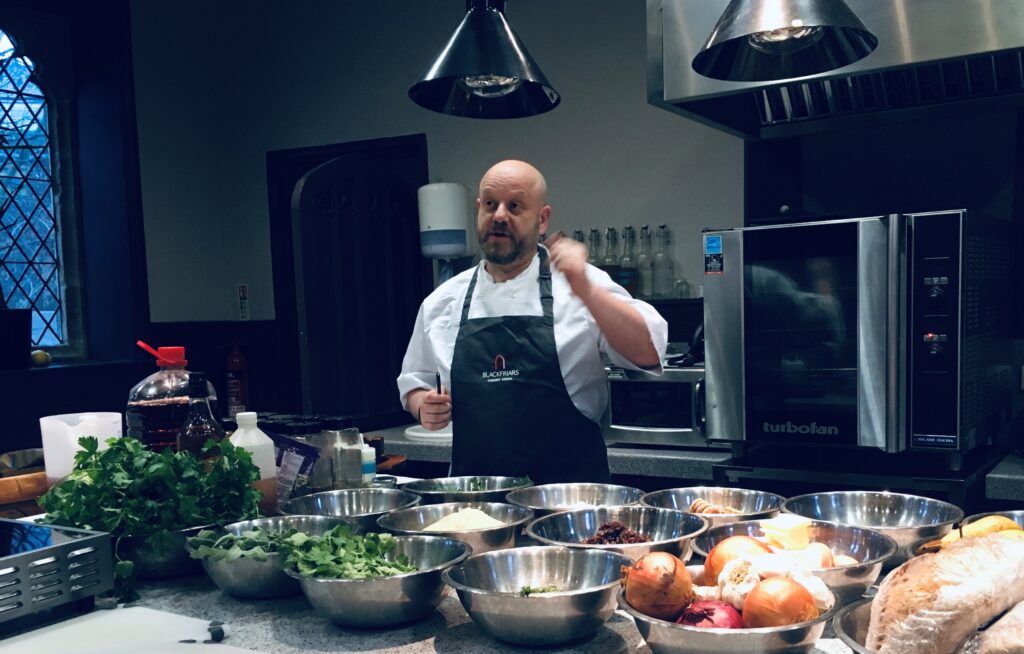 Saffron
The spices are different, too. Whereas German blood sausage contains marjoram, nutmeg, and thyme, this medieval blood pudding distinguished itself with a poudre fort, or "strong powder." Poudre fort was a medieval spice blend, and we took our recipe from 14th-century Italian recipe collection, Libro de cucina. It contains ginger, white pepper, and saffron. Incredibly, the saffron dominated, and I mean that in a good way.
Saffron! squealed my husband. He loved the taste. I did too. This made for one of the best sausages (puddings?) I've ever eaten.
My 23-year-old son agreed. He said that of all the things I made for my medieval cooking class, the blood pudding was the biggest surprise. And my 21-year-old declared English blood pudding to be every bit as good as German blood sausage.
With best wishes for post-Brexit Anglo-German relations, let me wish you, as the Germans would say it, einen guten Rutsch ins Neue Jahr (a good slide into the New Year).