Every medieval town had its mysteries.
Dilsberg, a walled town atop a hill that towers above Germany's Neckar River, was no exception. Its mystery was its defense. Dilsberg had never been conquered in a siege, and the besiegers could never figure out how the Dilsbergers remained fat and well-armed even after their access to the outside world was cut off.
Who would have thought that a traveling American would hit upon a secret that had eluded generals and armies?
Mark Twain in Germany
When Mark Twain traveled to Germany in 1878, he never planned to solve a military mystery. He was in the middle of writing Huckleberry Finn and had ideas for a new book on European travel, A Tramp Abroad. In the summer of 1878 he took a trip down the Neckar and Dilsberg caught his eye.
"For Dilsberg is a quaint place. It is most quaintly and picturesquely situated, too. Imagine the beautiful river before you; then a few rods of brilliant green sward on its opposite shore; then a sudden hill, – no preparatory gently-rising slopes, but a sort of instantaneous hill, – a hill two hundred and fifty or three hundred feet high, as round as a bowl…, and with just exactly room on the top of its head for its steepled and turreted and roof-clustered cap of architecture, which same is tightly jammed and compacted within the perfectly round hoop of the ancient village wall…. [F]rom a distance Dilsberg has rather more the look of a king's crown than a cap."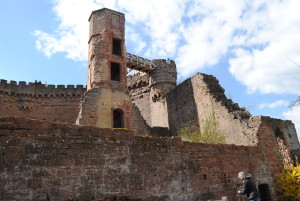 Twain hiked up the hill to visit the town. Once inside the city wall, he explored the castle ruins. "It proved to be an extensive pile of crumbling walls, arches, and towers, massive, properly grouped for picturesque effect…" Children accompanied him and acted as his tour guides. They climbed the castle tower and walked on its lofty battlements.
Dilsberg and the legend of the secret passage
It was the children who let him in on the secret. "But the principal show, the chief pride of the children, was the ancient and empty well in the grass-grown court of the castle. Its massive stone curb stands up three or four feet above the ground, and is whole and uninjured…. There were some who believed it had never been a well at all, and was never deeper than it is now, – eighty feet; that at that depth a subterranean passage branched from it and descended gradually to a remote place in the valley, where it opened into somebody's cellar or other hidden recess, and that the secret of this locality is now lost."
This, Twain said, was the secret to Dilsberg's defense. Dilsbergers were bringing in supplies through the secret passage. The children tried to prove the existence of the passage to him by dropped burning straw down the well. It struck bottom and burnt out without any smoke coming up.
"You see!" said the children. "Nothing makes so much smoke as burning straw – now where did the smoke go to, if there is no subterranean outlet?"
But was the story true or not? Sometimes with Twain's travel tales it's hard to tell.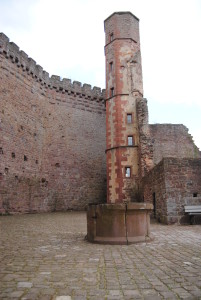 A Twain fan solves the mystery
In 1900, one Twain fan decided to find out. Frank von Briesen, a German American, was fascinated by the well story. He traveled to Dilsberg, let himself down the well on a rope, and found a passageway blocked by rubble. In 1926 he paid to have the outlet cleared. It terminated in the wooded hillside. The tunnel is now open to the public and the city of Dilsberg offers tours in the summer. Historians believe it was probably built to provide air circulation. But who knows? Maybe the Dilsbergers also used it during sieges to get supplies.
And maybe Mark Twain really did solve one of Germany's mysteries for the outside world. If it hadn't been for Twain and one of his fans, knowledge of the secret passage might have been lost.
Literature on point
All quotes from Mark Twain, A Tramp Abroad (public domain)
Werner Pieper, ed., Mark Twain's Guide to Heidelberg (Löhrbach: Werner Pieper's MedienXperimente)