Germany's lower Neckar Valley is Mark Twain country.
This stretch of river, the locals will fondly tell you, inspired Huckleberry Finn. The author came to Germany in 1878 with writer's block and Huck Finn half finished. Twain's raft trip down the Neckar River changed everything, at least according to the locals. Because afterward, Twain finished his novel.
But did that raft trip ever take place?
Historians come down on both sides of the question.
Twain's raft trip in A Tramp Abroad
Twain's travel memoir, A Tramp Abroad, covers his 1878 trip to Germany. With Heidelberg as a base, the author made side trips to Baden-Baden, the Black Forest, and several towns along the Neckar. From Heilbronn, a river port north of Stuttgart, he claims to have rafted back to Heidelberg. In fact, no less than six chapters are dedicated to Twain's raft trip.
According to Twain in chapter 14, he'd intended to hide from Heilbronn back to the Heidelberg. But at Heilbronn's bridge, he watched raft after raft float under the bridge:
The river was full of longs, — long, slender, barkless pine logs, — and we leaned on the rails of the bridge and watched the men put them together into rafts. These rafts were of a shape and construction to suit the crookedness and extreme narrowness of the Neckar. They were from 50 to 100 years long, and they gradually tapered from a 9-long breadth at their bow-ends.
On a sudden compulsion, Twain abandoned the idea of a pedestrian tour and chartered a raft himself. Twain's two-day trip back to Heidelberg, writes Peter Messent, was a dress rehearsal for Huckleberry Finn.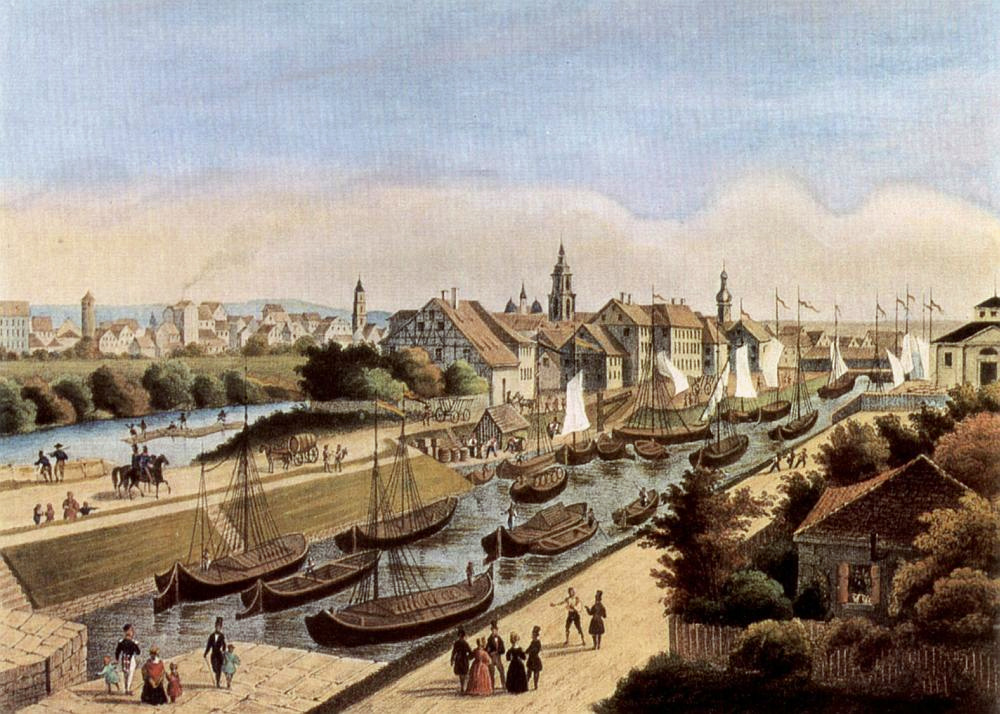 The beautiful Neckar
The raft meandered along at about 2 miles an hour and Twain could enjoy being a tourist without doing the work of walking. His description in A Tramp Abroad sounds idyllic:
Germany, in the summer, is the perfection of the beautiful, but nobody has understood, and realized, and enjoyed the utmost possibilities of this soft and peaceful beauty unless he has voyaged down the Neckar on a raft. The motion of a raft is the needful motion; it is gentle and gliding, and smooth, and noiseless; it calms down all feverish activities, it soothes to sleep all nervous hurry and impatience; under its restful influence all the troubles and vexations and sorrows that harass the mind vanish away, and existence because a dream, a charm, a deep and tranquil ecstasy. How it contrasts with hot and perspiring pedestrianism, and dusty and deafening railroad rush, and tedious jolting behind tired horses over blinding white roads!
I've boated that stretch of the Neckar and can testify to his statement.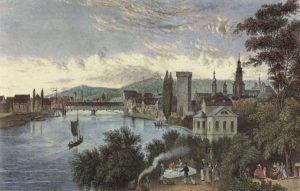 Could you even charter a raft in 19th-century Germany?
The 19th century saw plenty of rafts on the Neckar. The timber industry used rafts to transport logs from the Black Forest down steam all the way to the Netherlands. Although the railroad and chain tugs on the rivers reduced the number of rafts by 1878, they were still in use.
But could you charter one?
I asked two German museums dedicated to the regional rafting history and both indicated Twain's raft trip was theoretically possible. Rafts were still running and they were known to taken on passengers. You can view a photo of a German raft with passengers here.
Could you pilot one?
Twain, however, went a step further in chapter 20. As the raft approached Heidelberg, Twain decided he could shoot the rapids under the bridge himself. "I went to the forward triplet of logs and relieved the pilot of his pole and his responsibility." But that was the end of Twain's raft trip. He stepped off the raft as it reached Heidelberg's old bridge and the raft crashed and splintered against the pier. The passengers survived; Twain himself fished them out of the water.
That part of the story showcases the author's humor, not his historical accuracy.
Piloting a raft required a great deal of strength. The untamed Neckar River sliced through the 19th century with rapids and difficult-to-navigate narrow passages. Only the strongest men were allowed to steer. Considering that his livelihood was at stake, it's inconceivable the pilot would allow an inexperienced tourist to take over. His boss would have held him responsible for the lost logs.
So did Twain really travel the Neckar?
Definitely. In A Tramp Abroad, Twain's descriptions of Neckar Valley towns like Heilbronn, Bad Wimpfen, and Hirschhorn are detailed and accurate enough he had to have been there. And in Dilsberg, he reported a story about a forgotten tunnel leading from the town well to a place in the woods outside the city walls. An American archaeologist investigating the story discovered the tunnel years later, and it's now open to the public. How could Twain have known about the tunnel is he hadn't visited the town?
But on a raft?
Maybe not. The river journey from Heilbronn to Heidelberg in A Tramp Abroad took place on a raft, but in Twain's diary, Notes and Journals, Twain and his companion boarded a boat in Heilbronn on August 9, 1878. But the diary mentions the boat passing a raft about half a mile below the town of Eberbach. That leaves the truth about Twain's raft trip a bit of a mystery. I like that. But both sources make it quite clear: The idea of river rafts floated on the surface of Twain's consciousness during his trip on the Neckar.
Some say that the Neckar inspired one of America's greatest novels; after he reached Heidelberg, Twain was able to finish chapter 16 of Huckleberry Finn. It's the chapter in which Huck and Jim, on their raft in the Mississippi, realized they'd already passed Cairo, Illinois and Jim's one shot for freedom.
But chapter 16 was already completed in 1876, according to Richard Bridgman (pp. 100-101). Twain picked up the manuscript again in 1880. He published Huckleberry Finn in 1885.
Regardless of the plausibility of Twain's raft trip, it's clear that river rafts played a prominent role in the author's imagination. Peter Messent is right. Whether real or not, Twain's raft trip on the Neckar was a dress rehearsal for Huckleberry Finn. And for that, we can be thankful.
Have you ever rafted a river? What was it like?
Literature on point:
Richard Bridgman, Traveling in Mark Twain (Berkely: Univ. of California Press, 1987).
Ditmar Hauer, "Auf den Spuren von Mark Twains 'Bummel durch Europa' von Heidelberg nach Heilbronn: Mississippi-Lotse auf dem Neckar," Berliner Zeitung (3 August 2002).
"Die kräftigsten Flößer steuerten," Der deutsche Wald kann mehr als rauschen.
Albert Locher, Mark Twain entdeckt Europa (Urtenen, Switzerland: Albert Locher, 2005).
Peter Messent, The Cambridge Introduction to Mark Twain (Cambridge Univ. Press, 2007).
Roy Morris, Jr., American Vandal: Mark Twain Abroad (Cambridge: Belknap Press of Harvard Univ. Press, 2015).
Werner Pieper, Mark Twain's Guide to Heidelberg: His journey through Germany in 1878 (Löhrbach, Germany: MedienXperimente, 1995).
Mark Twain, A Tramp Abroad (public domain, originally published 1880).
Mark Twain, Notes and Journals vol. 2 (1877-1883) (Berkley: Univ. of California Press, 1975).
Merken
Merken
Merken