The Bean King
Twelfth night cake wasn't officially part of my online medieval Christmas cooking class at eatmedieval. But it was, indirectly. When Giles Gasper, the history professor who contributed some online lectures mentioned a 14th-century Christmas custom of the bean king, I knew I'd heard of that tradition somewhere. It involves baking a cake with a bean in it, and whoever gets the slice of cake with the bean in it is king for the day.
Giles comments sent me rifling through my cookbooks.
I found it in my Mexican cookbook: rosca de los reyes, the Mexican version of twelfth night cake or king cake, which is made on 12th day of Christmas, January 5. And there it was in the recipe: Hide a tiny doll or bean in the bread, and whoever finds it is supposed to host the next party on February 2, or Candlemass. And if you google Rosca de los Reyes, and you'll find that whoever finds the bean or doll gets to be king for the day. Bingo!
Rosca de los Reyes, the Mexican twelfth night cake
I asked Giles Gasper if two traditions are related, and he thought they probably were. My conversation with him prompted me to explore a tradition that has largely died out in England, but apparently lives on elsewhere – and to celebrate it at home for the first time. I made my very first twelfth night cake.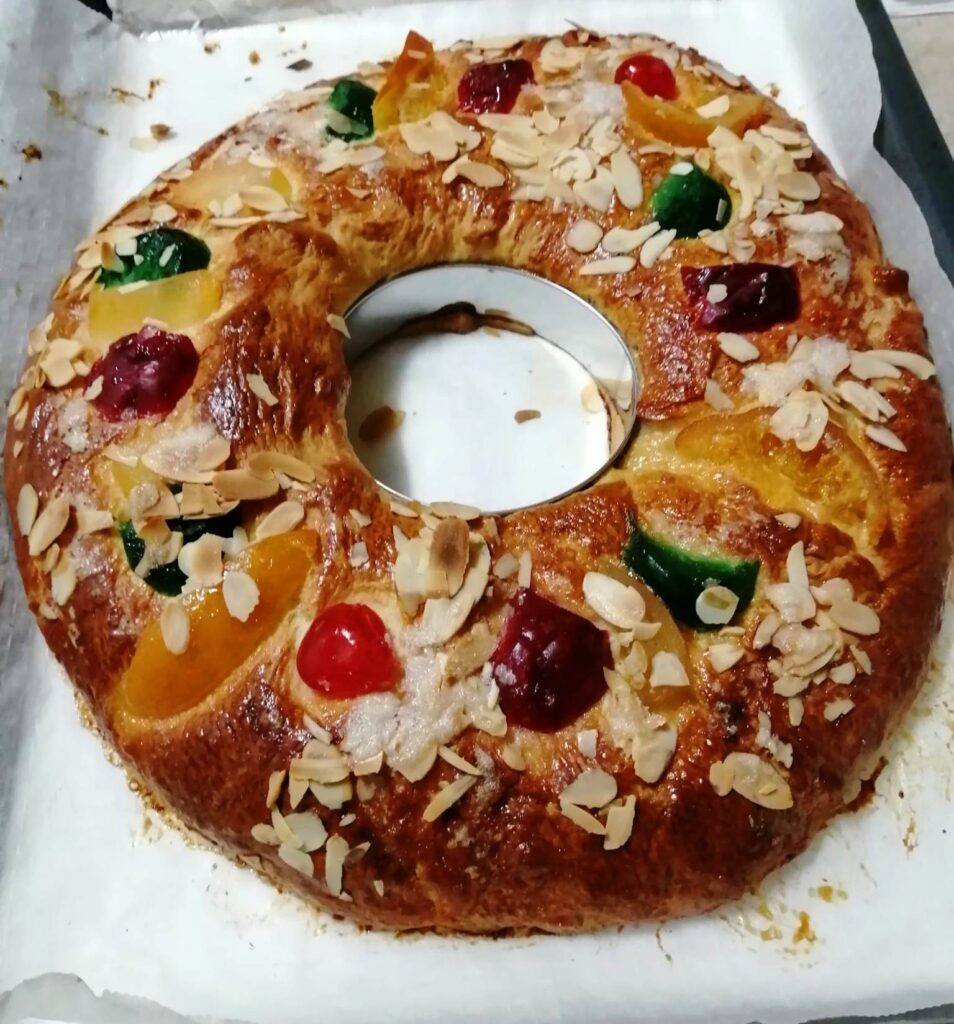 A little internet research indicates that Mexico is not the only country that still makes twelfth night cakes. France does too. The French make puff pastries called galette des rois and crown the person who finds the bean with a paper crown. Although I haven't experienced it in Germany, the Germans and Swiss apparently make a Dreikönigsküchen using an almond instead of the bean. France, Germany, Switzerland, and Spain celebrate with their twelfth night cakes on Epiphany (January 6) instead of the Twelfth Night (maybe their versions should be called thirteenth night cakes!).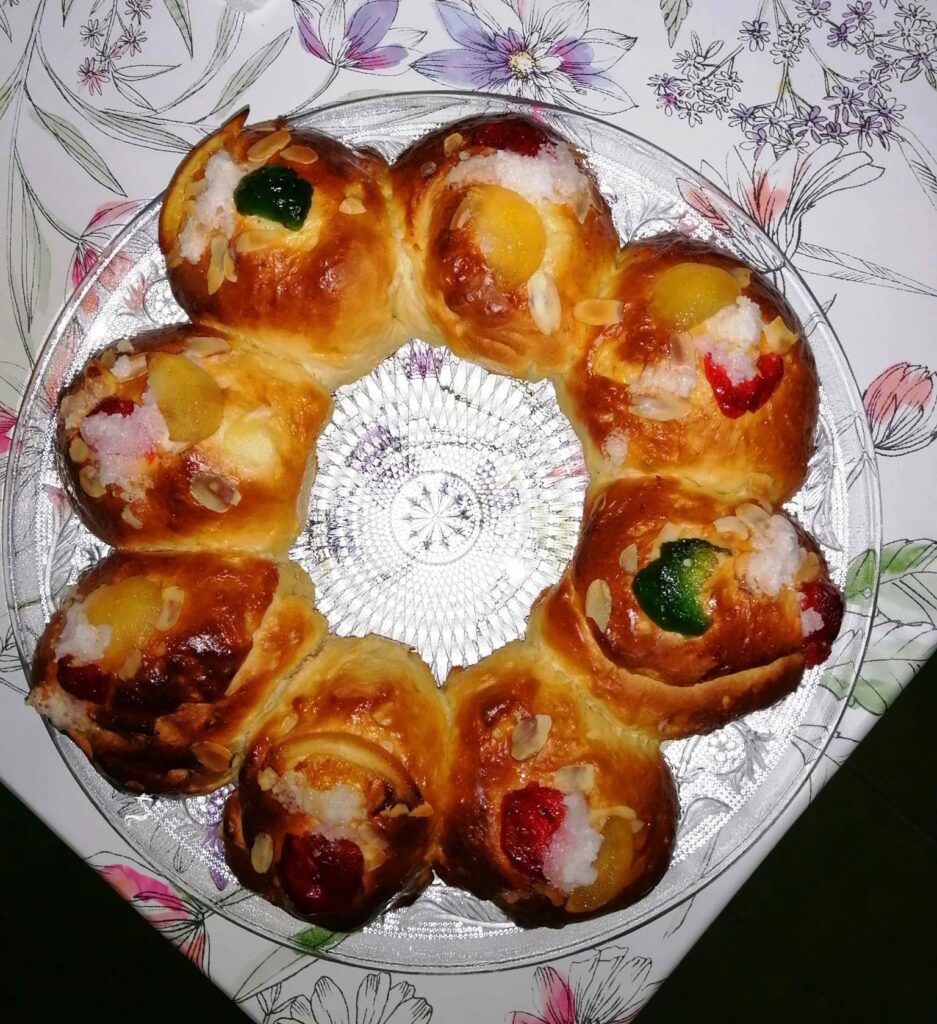 A Scientific American blog post says that the twelfth night cake tradition dates bake to the Roman festival Saturnalia. Celebrated during the winter solstace, it honored the god of agriculture, Saturn. The Romans baked fava beans in a cake, and whoever found the bean got to be king for the day. In the Middle Ages, Christians appropriated this tradition for Epiphany.
"I Want to Abdicate!"
For Epiphany, I baked a fava bean in a Mexican twelfth night cake. The recipe – a yeast cake studded with candied fruits and nuts – is a fluffier version of the German Christmas Stollen. And because I read that Mexicans also celebrate Epiphany with a piñata, I made one and filled it with candy, coins, and confetti. Whoever finds the bean, I told the family, gets to break the piñata.
It turned out more suspenseful than we expected. We were down to the last piece of cake and I was starting to worry that someone had accidentally swallowed the bean when my 23-year-old son found it. King for the day!
But no. Adult children don't always want to play by the rules. "I want to abdicate," he said. "What are the rules of succession?" (This is the child who used to cite the Geneva Convention against me whenever I tried to punish him as a teenager.)
Sorry, but abdication is not allowed with the twelfth night cake, right? Even if it isn't exactly a medieval rule, my husband and I insisted it was. So my son broke the piñata, and five minutes later he was happily dividing his treasures with his brother — a nice way to end Epiphany.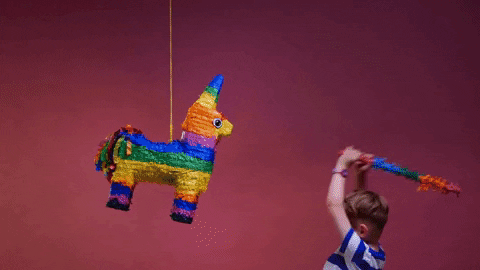 And in that vein, may I wish you, as the Mexicans would say, un Feliz año nuevo?
Read More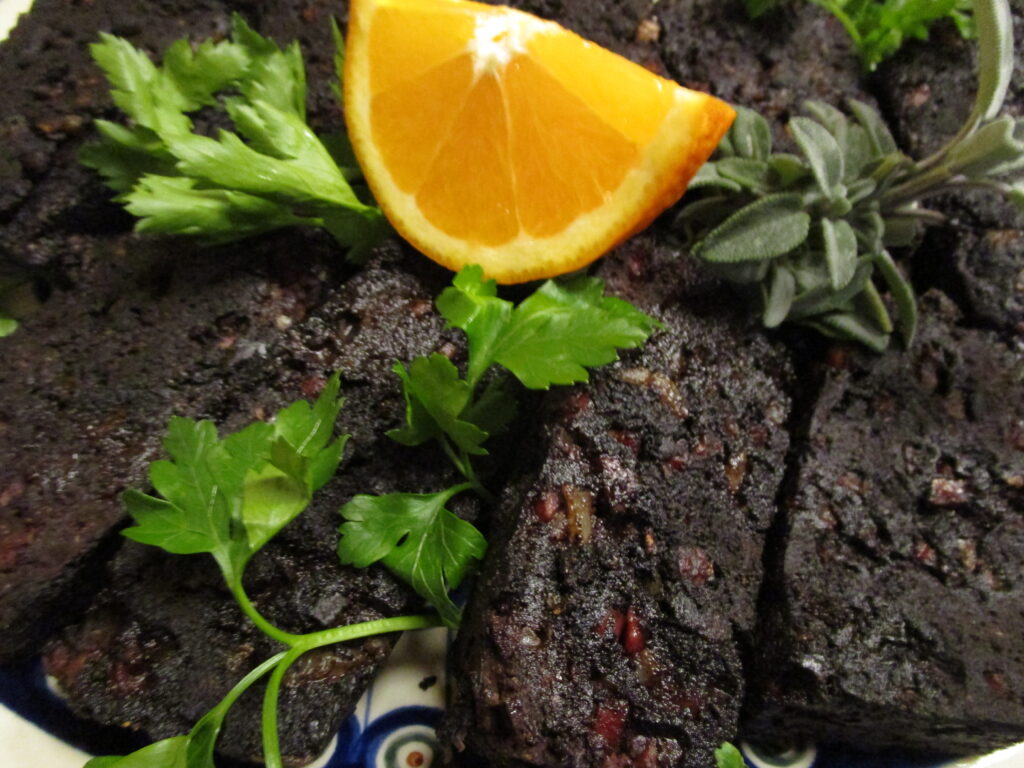 Blood Pudding
I've never had English blood pudding before. I'd heard of it, of course, but have never had the opportunity.
It's not that I'd be adverse to the blood. With a German father and Czech mother, I grew up with an array of European foods, and blood sausage was one of them. Zungenwurst, or blood and tongue, became my favorite luncheon meat before I was old enough to realize that blood was actually an ingredient.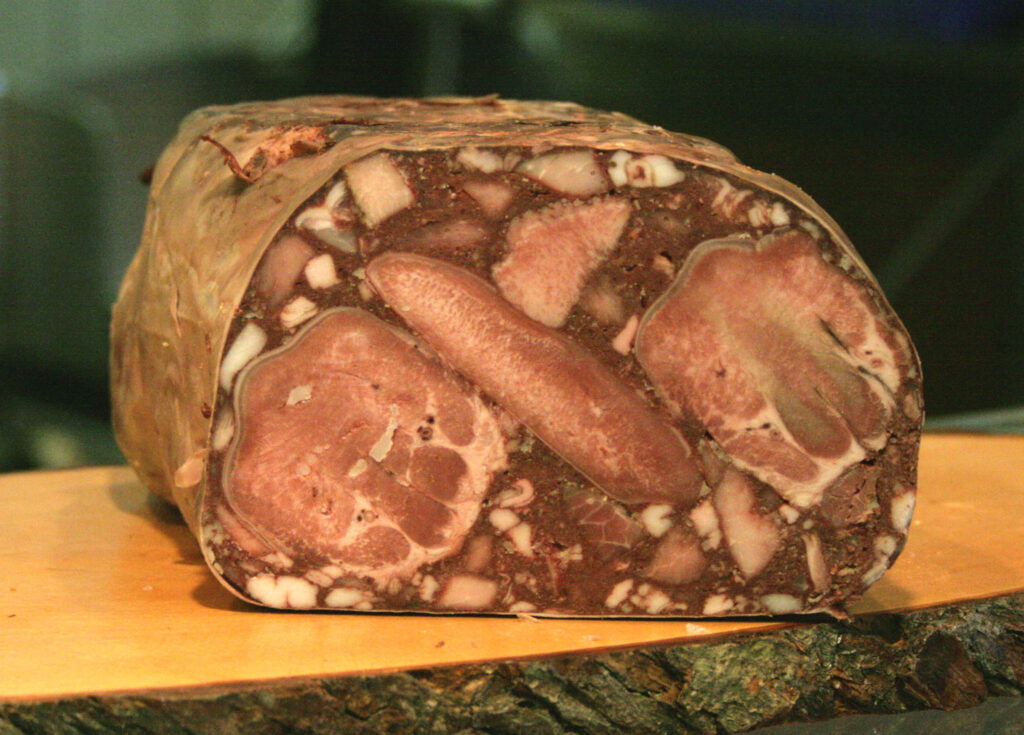 Then there's Blutwurst, or blood sausage. It's a popular in Württemberg as part of the Schlachtplatte (butcher's platter) served at the local Besenwirtschaften, Württemberg's temporary pubs for homemade wine. Liverwurst, a slice of pork belly, sauerkraut, and homemade bread round off the plate. This blood sausage sports a distinct nutmeg flavor and is soft enough you can spread it on your bread.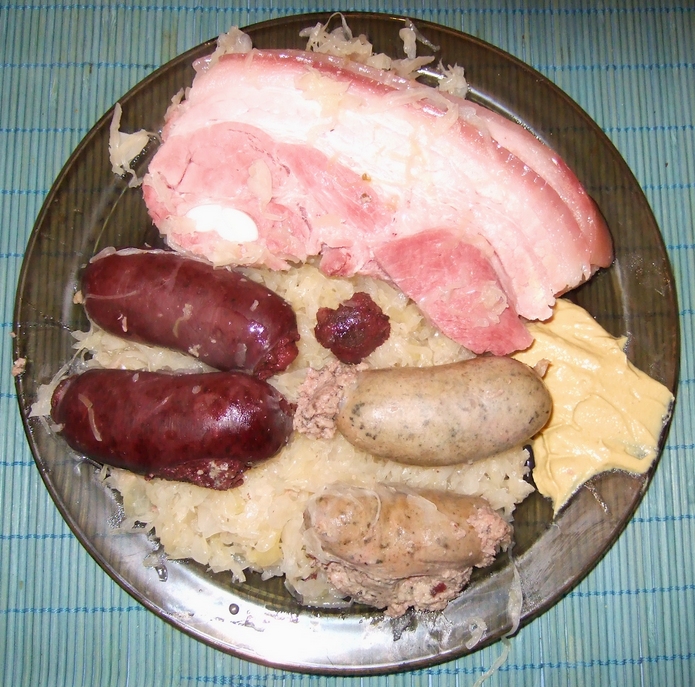 Then along came eatmedieval, an online course on medieval cooking, all based on the Christmas feast of an English bishop. The course included a recipe for bread and blood pudding. That was my opportunity – I could now make blood pudding myself!
Mom, the blood pudding was the biggest surprise!
I spread the eleven dishes we learned in the course over the twelve days of Christmas. We kicked Christmas Eve off with a rabbit stew, and then moved on to delicacies like a boar's head, venison steaks, medieval gingerbread, and a chastelet. I prepared the blood pudding, along with a dish called goose in hochepot, towards the end. I was curious how the other members of the family would react. As Germans, their only culinary experience with blood was German blood sausage.
Bread crumbs
There's a huge difference, as it turns out. Our medieval blood pudding recipe came from the Forme of Cury, the oldest known cookbook in the English language (14th century). It included bread crumbs, which made it as stiff as a meatloaf. In fact, the teacher had us frying the pieces in goose fat at the end. You could never do that with German blood sausage. I remember once, when I was too ill to get out of bed and my husband offered to cook. Don't worry, he said. I'll make some blood sausage pizza. The German blood sausage, which was nice and congealed while cold, liquefied in the heat of the oven. When he served me the pizza, there was blood running around the top. (Yes, I ate it anyway. And yes, I recovered too.) The medieval blood pudding would have never done that.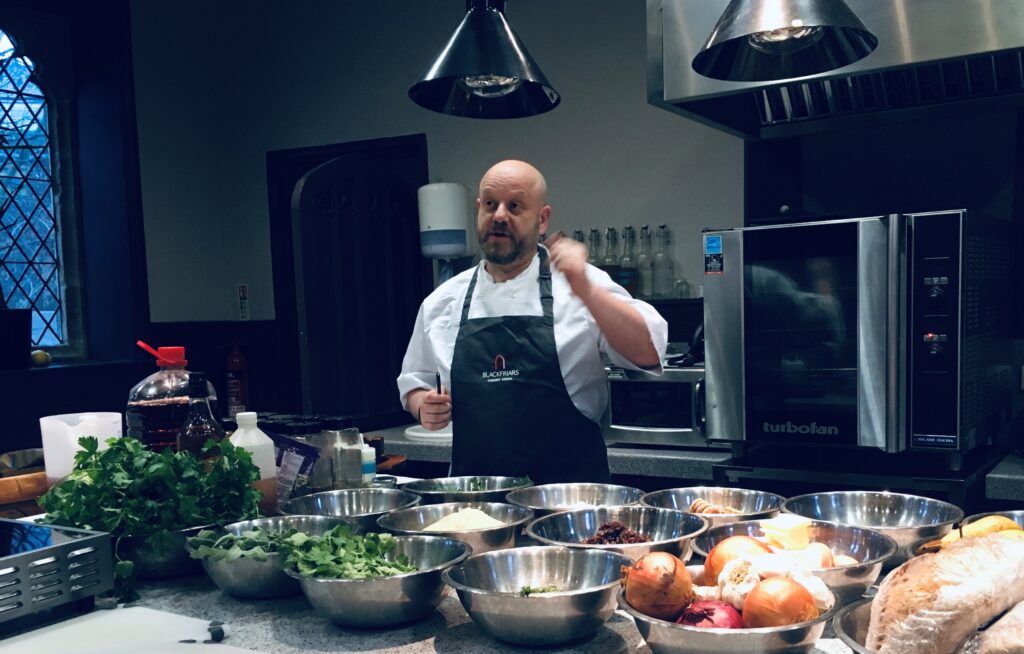 Saffron
The spices are different, too. Whereas German blood sausage contains marjoram, nutmeg, and thyme, this medieval blood pudding distinguished itself with a poudre fort, or "strong powder." Poudre fort was a medieval spice blend, and we took our recipe from 14th-century Italian recipe collection, Libro de cucina. It contains ginger, white pepper, and saffron. Incredibly, the saffron dominated, and I mean that in a good way.
Saffron! squealed my husband. He loved the taste. I did too. This made for one of the best sausages (puddings?) I've ever eaten.
My 23-year-old son agreed. He said that of all the things I made for my medieval cooking class, the blood pudding was the biggest surprise. And my 21-year-old declared English blood pudding to be every bit as good as German blood sausage.
With best wishes for post-Brexit Anglo-German relations, let me wish you, as the Germans would say it, einen guten Rutsch ins Neue Jahr (a good slide into the New Year).
Read More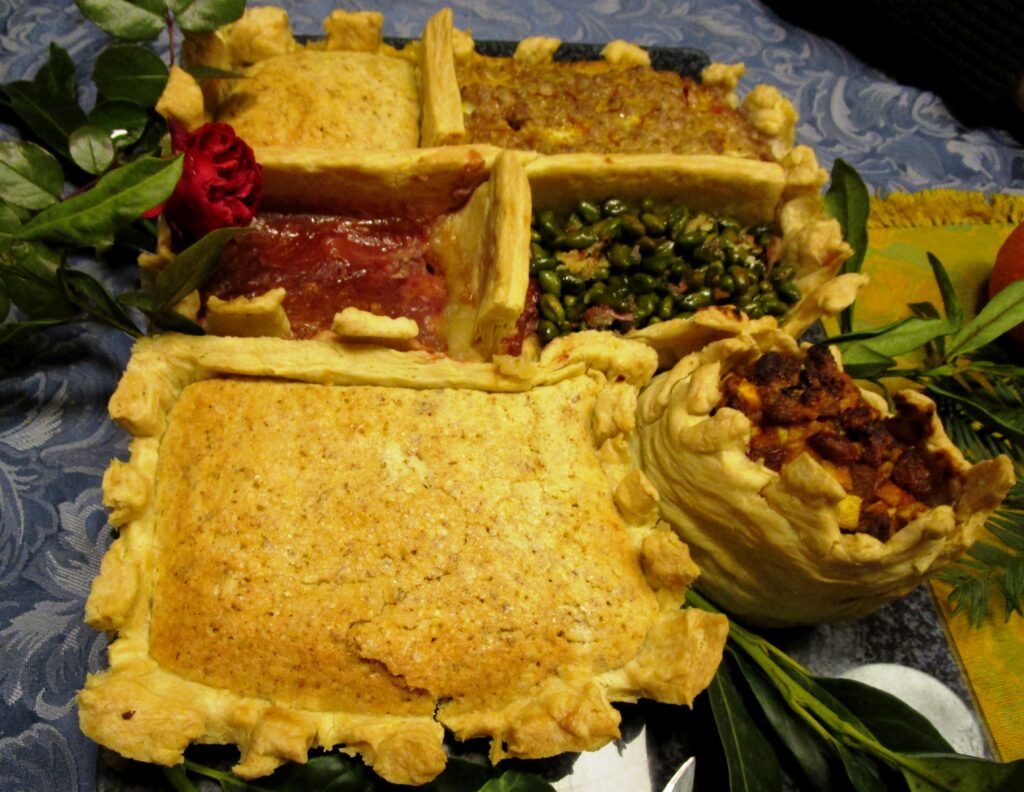 A Pastry Castle
Family history married medieval cuisine when I baked a Christmas chastelet as the Moldenke castle. The idea came when I took an online medieval cooking class from eatmedieval. Part of the 13th-century Christmas menu we recreated highlighted a chastelet – a castle in pastry form filled with all sorts of goodies. No need to make the same castle we created, one of the teachers said. Pick any castle that has some kind of personal meaning for you.
I knew right then I had to create our family castle.
Moldenke Castle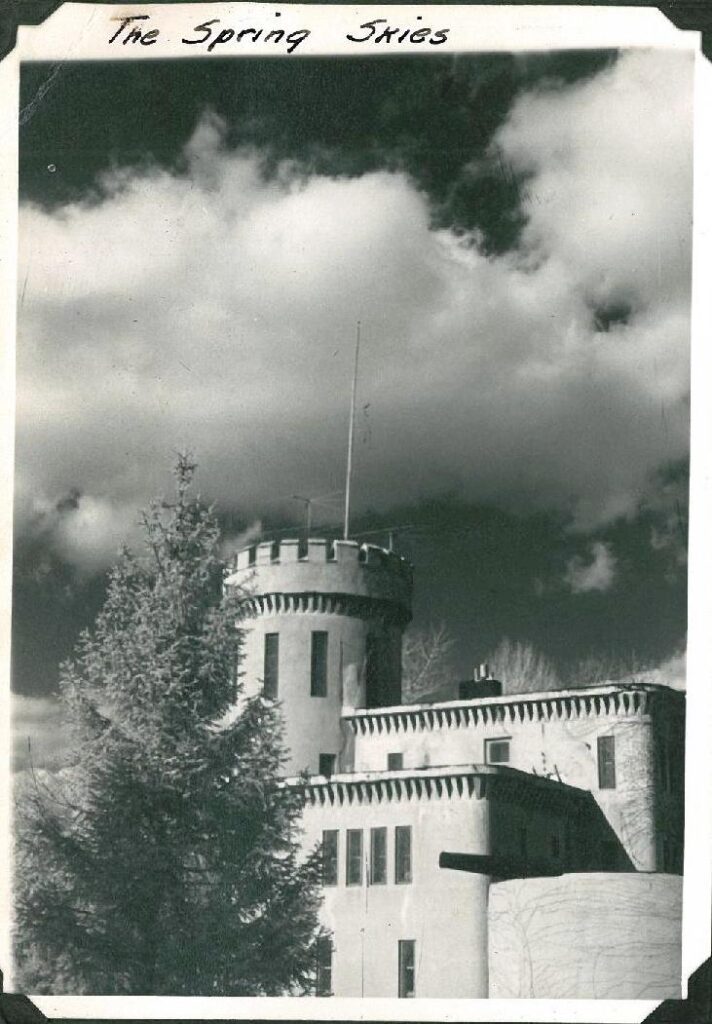 Excuse me, but a castle in New Jersey, in the United States?
You bet. A German metallurgist in New Jersey, Dr. Richard George Gottlob Moldenke, built a castle in Watchung starting in 1900. He finished it in 1930 and dubbed it "Elsinore Castle," but locals called it the "Moldenke Castle." Elsinore had nothing to do with Shakespeare's play Hamlet, in which he dubs the Kronborg Castle in Denmark "Elsinore." Moldenke castle's form differs sharply from Kronborg's imposing square form. Elsinore was probably a play on a Moldenke family name, Elise.
My Czech grandfather, Jiří Hurych (anglicized as Jerome Herrick) purchased the Moldenke castle in 1945 and moved my grandmother, mother, and two uncles in. Jerome was a research scientist and used the castle's large annex to set up his research laboratories. My mother loved the adventure of growing up in a castle. Unfortunately, it's no longer in the family. The Moldenke castle burnt down in 1969 and my grandfather sold the property to developers.
Nevertheless, the castle offered a fun opportunity to recreate a medieval Christmas treat and remember each family member individually. I took the second story floor plan, where the bedrooms were, and individualized the fillings as a memorial to each person.
My Family's Individual Fillings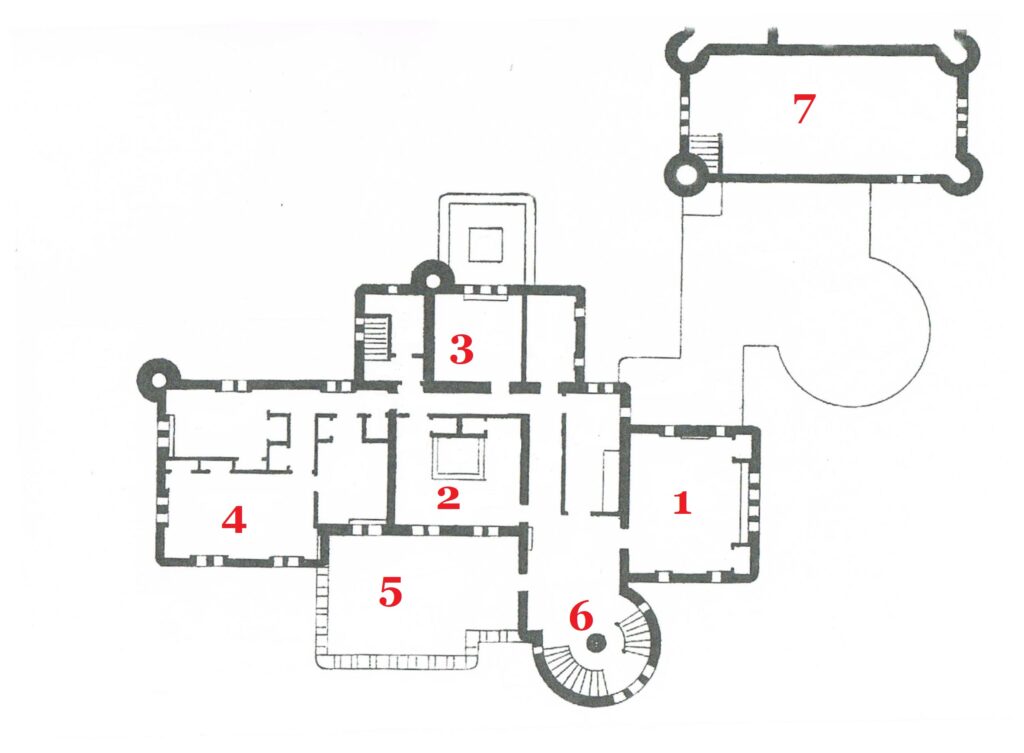 My grandparents Jerome and Rose slept in room 1, the master bedroom. As the foundations of the family, I gave them the heartiest filling – hard-boiled eggs and pork sausage. My mother was in room 2, with a skylight in the center. I filled her room with a pistachio filling because she loved pistachios.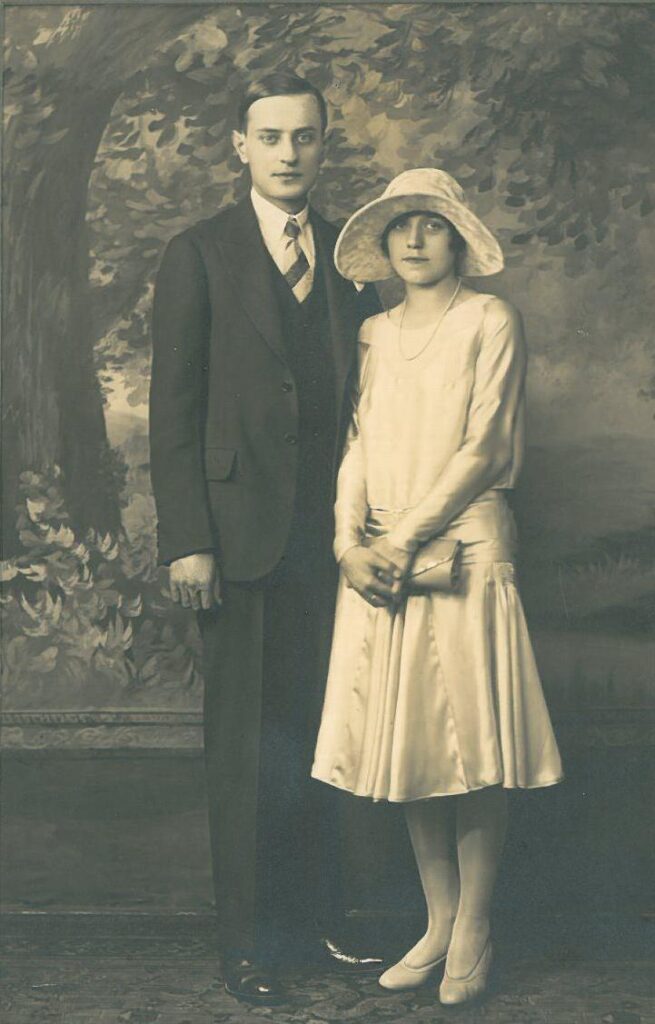 Uncle Jerry and James Bond
Uncle Jerry, who had room 3, was an adventurer. His job took him to many countries, and over the course of his life he lived in Bermuda, Indonesia, and Saudi Arabia. In the 60s, while he was in Bermuda, he joined the scuba diving club. Eon Productions asked the club if they could dive as extras in a scuba diving fight scene for their new James Bond film, Thunderball (also filmed in the Bahamas). If you watch this clip of Thunderball, Jerry swims closest to the camera at 1:49-1:50. We can tell because he tied a red ribbon around his ankle to identify himself later. At the post production party, Sean Connery patted him on the back and asked, "How're you doing, Jerry?" Jerry was so amazed that Connery remembered his name he became an instant Sean Connery fan. So Jerry got the almond cream, shaken, but not stirred.
Uncle George, the Practical Joker
Uncle George slept in room 4. He was a practical joker. I remember well his I-found-a-finger-on-the-street trick. He took a small box, cut a hole in the bottom and stuck his finger through it. He then doused his finger with ketchup and told us kids he's found a bloody finger on the street. As we gathered around to look at it in shock, he started wiggling his finger. George got the red egg custard filling to make it look like that red, bloody box. I colored it with sandalwood and beet juice.
Number 5 was a tiled roof where my mother liked to sunbathe. I used almond cream for that. And the five-story tower, number 6, got a mince meat filling. Number 7 was the annex and research labs – not so medieval – so I left that off to simplify the pastry.
Questions, Questions
Patterning my chastelet after a family home proved to be a great way to introduce my adult sons to some family history. They knew about the castle, of course, but the various fillings tied to individual family members led to a variety of questions.
What other practical jokes did Uncle George play?
How could our great-grandfather afford a castle? What kind of research did he do?
Where else did Uncle Jerry live? Was he ever in another Bond film?
All in all, it was a great way to kick in the New Year. Thanks, eatmedieval, for the idea.
Happy New Year, everyone, or as my Czech grandparents would say, stastny Novy rok!
Read More
Crème Bastard
"Crème Bastard" has been christened as a Game of Thrones recipe, all because of a passage in George R.R. Martin's book. He describes the menu at the Lord Commander's table at the Wall. Dessert consisted of "bowls of iced blueberries and sweet cream." The Feast of Ice and Fire: The Official Game of Thrones Companion Cookbook interprets the sweet cream as Crème Bastard, alluding to a major character's presence at the wall: Jon Snow is thought to be a bastard.
Although Crème Bastard would taste great with blueberries, it has nothing to do with the fantasy saga. Bastard is an old English word for custard. You'll find the real recipe in the British Library (MS Harleian 279). It dates back to the middle of the 15th century. The recipe is simple. You whip egg whites, simmer them with milk, add sugar, and then strain it.
You Know Nothing, Jon Snow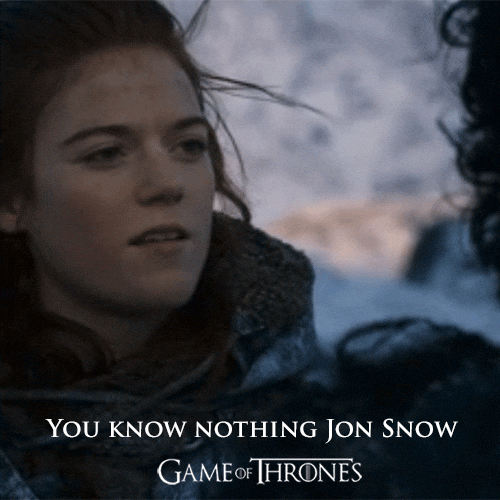 At least, Jon Snow, you know nothing about how to make Crème Bastard! I can recommend eatmedieval and its online course, A Taste of Christmas Past, offers a video tutorial on how to assemble one. I'm allergic to milk and had to substitute almond milk and oat cream. It turned out foamy and slightly sweet with a delicate spice flavor. Because real milk acts different than almond milk, I skipped the straining process, blended it with an immersion blender, and sprinkled date sugar and nutmeg on top. My family sipped it through straw spoons and declared the non-diary Crème Bastard a success. Whew.
Eatmedieval
Eatmedieval is a cooperation between Andy Hook, owner of Blackfriars Restaurant in Newcastle (Blackfriars is in a Dominican friary's former refectory, making it the oldest dining room in the UK), and Giles Gasper, a professor of high medieval history at Durham University. They put together a menu for their course, based on the 1289 Christmas menu for an English bishop, recipes from the archives, and interpretations from Andy's chefs.
When I started the course, I wasn't so enthused about listening to a history professor. It's not that I'm not interested in history. I've published an award-winning book about a historical true crime with a university press, after all. It's just that when you log in to an online cooking course, you've already sharpened your knives, preheated your oven, and uncorked your wine and spices. You're primed for the cooking demonstrations, not the history lessons.
A History Professor for the Win
That impression ended about eleven seconds after Giles Gasper opened his mouth. In broad strokes, he painted colorful images of a medieval Christmas feast. In a live question and answer session on Zoom, he answered volleys of questions with the ease of a professional tennis player in a match:
Would the bishop have served his feast in courses in 1289? asked one participant.
No, all the dishes would have been placed on the table at the same time, with more and better dishes on the high table.
Did the bakers ever shape their pastries into gargoyle shapes for the entertainment effect? asked another person.
It's possible. Gargoyle shapes on a fountain have been documented.
How did spices like long pepper and grains of paradise find their way into England?
On the spice routes, a combination of sea and land routes, and then from ports like Alexandria to Venice, and then across Europe.
Giles inspired me to look up Durham University's website and see what it would cost me to get a master's degree there. Maybe I could do it remotely from here in Germany. Heck, I even know that medieval theme I'd write my thesis about – the evolution of the vintner's bush. The price tag, though, invoked the voice of reason: First, I'd need a bachelor's degree in history before getting a master's, and perhaps more convincing – why on earth would I shell out ten thousand pounds to study at an English university when German universities are tuition-free?
The voice of reason won – but my having briefly considered studying at Durham University underlines how fascinating the historical aspects of this cooking course were.
And with that, I'll raise my glass of Crème Bastard and wish you ein frohes Neues Jahr!
Read More