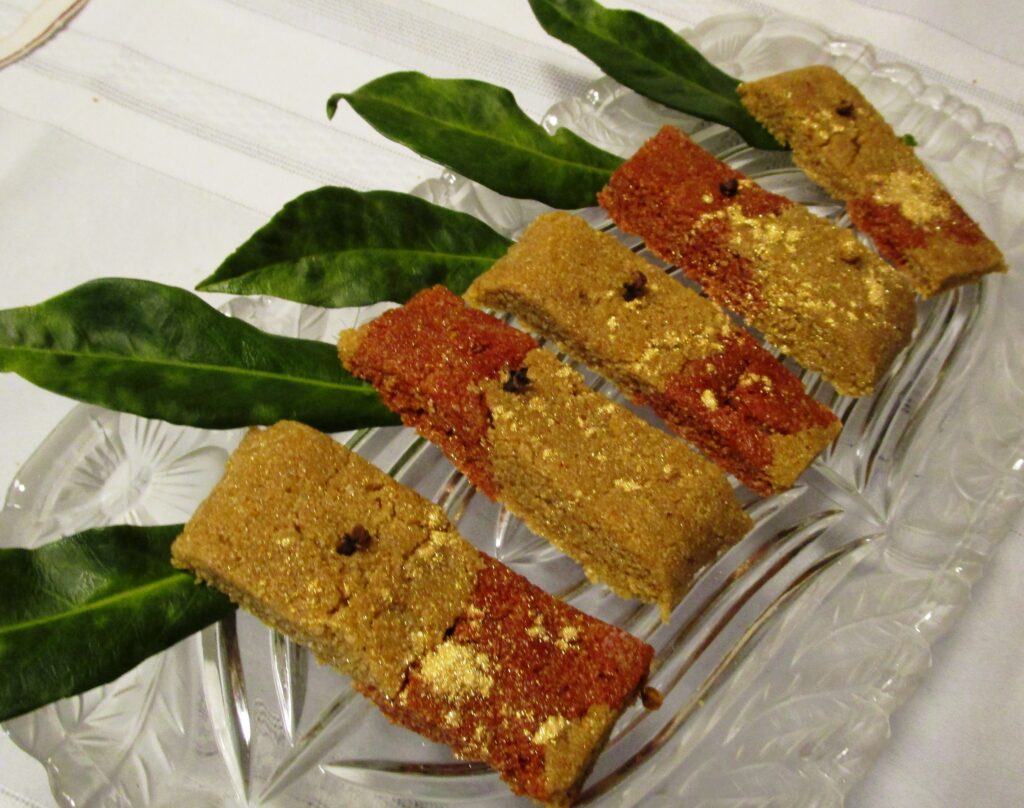 The Case of the Missing Ginger
There's a recipe for Gyngerbrede in a 15th-century collection in the British Library (Harley MS 279). Like any baker, a person making this recipe will scroll through the ingredients first to make sure they're on hand:
Hony (honey) – check.
Safroun (saffron) – check.
Pepir (pepper, but I used grains of paradise) – check.
Grated brede (bread crumbs) – check.
Canelle (cinnamon) – check.
Saundrerys (sandalwood) – check.
Mix them together, press the mass into a square, and slice it.
But wait! Where's the gynger?! Who ever heard of a gingerbread recipe without ginger in it?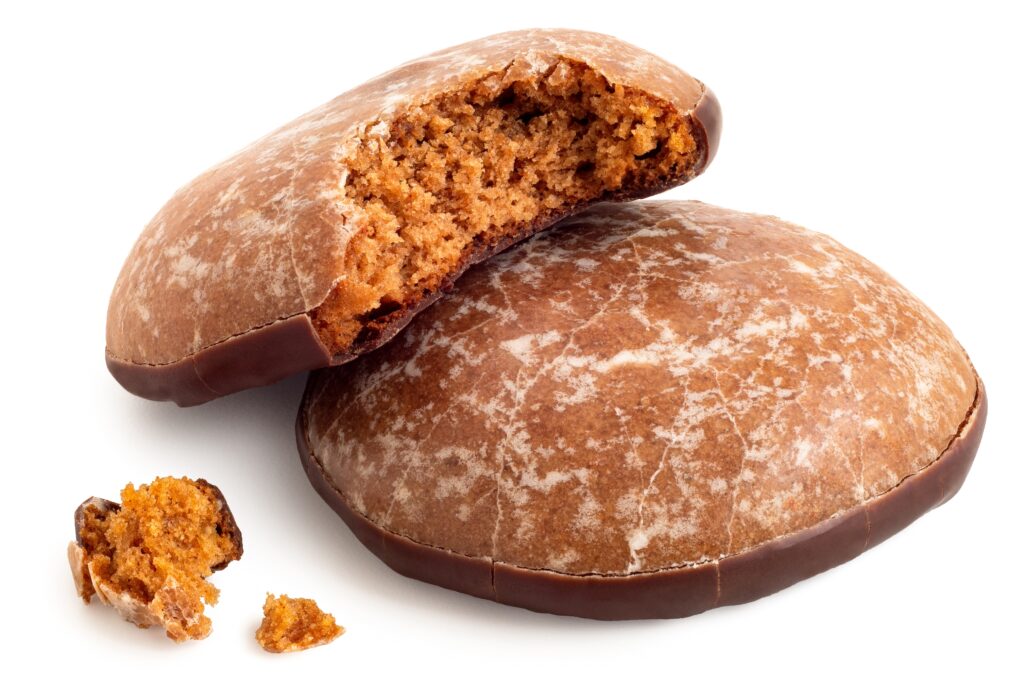 The prevailing theory: The scribe did it
The missing ginger in this recipe hasn't gone unnoticed The most popular explanation for the missing ginger – the one offered by the British Library and by my eatmedieval cooking class – is that the scribe copying the recipe probably just made a mistake and omitted it. Scribes made mistakes all the time. Because it makes sense that recipe titled "gingerbread" had ginger in it, most cooks following the recipe add it back in.
My personal theory is that someone played a nice, medieval joke on the baker. I can imagine some snickering in the scriptorium: Hey Roger – do you think the baker would notice if I don't list the ginger in the gingerbread recipe?
The Real Medieval Gingerbread Mystery
Perhaps the real gingerbread mystery is how this delicacy became so widespread with so many variations. Gingerbread men are attributed to Queen Elizabeth I and are found throughout the English-speaking culture. Lebkuchen and its little cousin Pfefferkuchen are popular in Germany. The witch's house in the Grimm Brothers' original Hansel and Gretel was a Lebkuchen house. Every German fair has a stand where you can buy decorated Lebkuchen hearts with love messages on them. The French have their pain d'épices and the Czechs their perník, iced gingerbread cookies.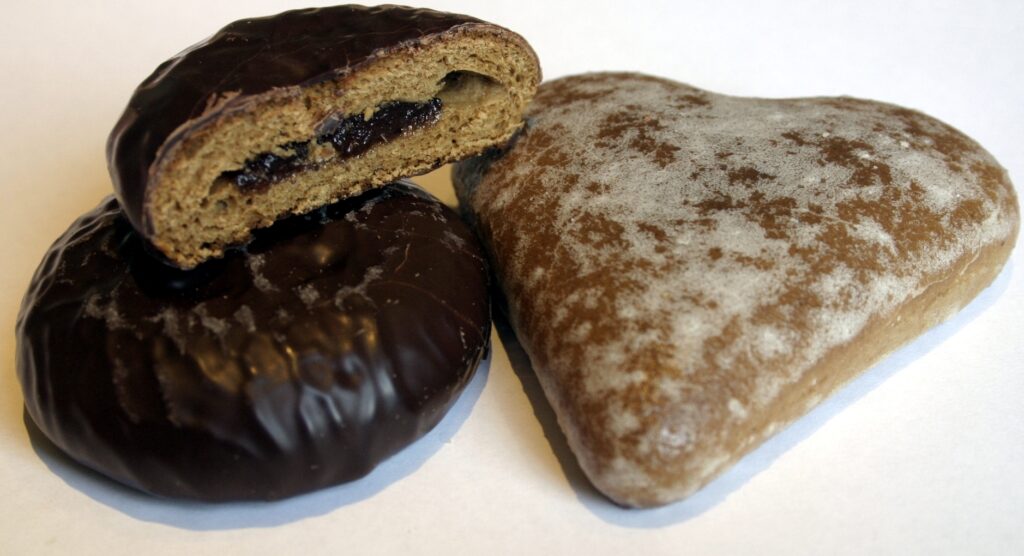 Gingerbread was already popular in the Middle Ages. The Bishop of Hereford, whose menu we followed in my eatmedieval cooking class, had gingerbread in his 1289 feast. Poland has been producing Toruń gingerbread since the 13th century. In Sweden, gingerbread is documented in 1444.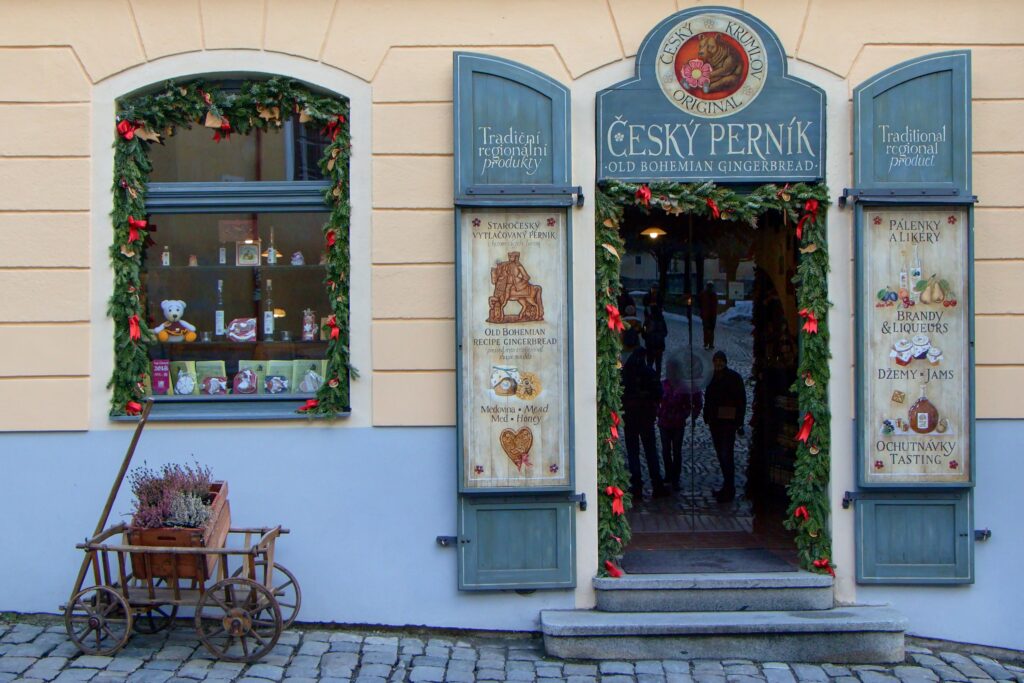 The original gingerbread might be Asian. A 10th-century manuscript in France apparently records how an Armenian monk named Gregory Markar made spiced cookies like those from his homeland. His gingerbread tradition developed into the La Confrérie du Pain d'Epices de Saint Grégoire de Nicopolis (The Brotherhood of Gingerbread of Saint Gregory of Nicopolis), which still exists today.
References on point:
Liana Aghajanian, "How an Armenian Monk Brought Gingerbread to the West," ianyan mag (December 23, 2014)