Part One: The Victim
Not all bullets in the Civil War were exchanged between North and South.
One of the most spectacular crimes of the Civil War, besides the Lincoln assassination, was the murder of Major General Bull Nelson from Kentucky. A fellow Union officer shot him. Donald A. Clark recently published the first biography of Bull Nelson and has offered to answer questions about the case. Today's blog will focus on Nelson's background; next week we'll take a closer look at the crime. Feel free to ask Don your own questions via the comment section below.
Donald A. Clark has published a number of scholarly articles about 19th century Kentucky history, covering topics as diverse as the Civil War, church history, and viniculture. The Southern Illinois University Press published "The Notorious 'Bull' Nelson: Murdered Civil War General" in 2011.
AMA: Hello Don! Who was Bull Nelson and what happened?
DAC: Days after the opening salvos at Charleston, South Carolina, United States Navy lieutenant William "Bull" Nelson stepped forward to help his native state of Kentucky remain loyal to the Federal government. On September 29, 1862, Major General Nelson was murdered by a subordinate Union general named Jefferson Columbus Davis after the two had a public confrontation in the lobby of a Louisville, Kentucky hotel. As fate would have it, the President of the states in rebellion was also named Jeff Davis. The Union Jeff Davis was never prosecuted for the crime and that ensured he and Nelson and would be better remembered for a very peculiar tragedy rather than the meaningful contributions that both made to keep their county whole.   
How did Nelson's murder affect the war?
Nelson's death had no affect on "the war." However, at the succeeding battle of Perryville (Kentucky), his bold fighting style could have conceivably brought about a genuine defeat of the Confederate forces. Instead they were able to withdraw and prolong the fighting in Tennessee.
Nelson was the kind of person whom people either loved or hated. Why? And what was the real Bull Nelson like?
The six foot four inch Nelson was an "ox of a man" who weighed over 300 pounds. His deep booming voice dominated conversations in which he always made his opinions known. As a high spirited and unruly teenager, he served five years in the harsh world of the old sailing navy and that seems to have made him into a "bully" when he attended the U. S. Naval School. The Nelson who commanded infantry troops in the volunteer army endeared himself to the enlisted ranks because he never held his tongue when chastising inept volunteer officers for failing to properly care for those men. He became a martyr to that style of discipline by openly embarrassing Brigadier General Jeff Davis for not doing his duty. The public loathed any form of bullying behavior by officers and the press fed that feeling with vengeance.
Thanks, Don! See you next week for more about the murder.
Have you ever known a bullying personality like Nelson's? How did people deal with him or her?
Literature on point:
Donald A. Clark, The Notorious "Bull" Nelson: Murdered Civil War General (Carbondale: Southern Illinois University Press 2011).
Read More
Dogs love stench. They are attracted to different fragrances than we are. They poke in garbage, sniff rear ends, and flop down on the beach to roll in dead fish. So it is not surprising that incidents of dogs discovering homicide victims sprinkle the history of criminal investigations. Most of those discoveries are accidental. Dogs out on walks led their unsuspecting owners to gruesome finds. But they are finds that aid investigators.
People have long used dogs for search and rescue or for tracking live criminals. Why not also the dead? Training of cadaver dogs began in the 1970s. Handlers hid objects that smell like death, such as chemicals or pulled teeth. They taught the dogs to track those odors in various kinds of weather and in different terrains. The dogs also had to distinguish between human and animal remains. The first police dog in the United States exclusively trained for cadaver searches started working in 1974. "Pearl," a yellow lab, made her first find in New York State. She found the clandestine grave of a Syracuse College student, buried four feet deep.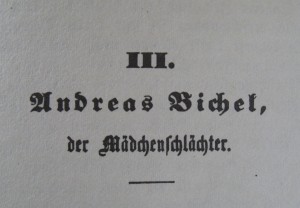 Purposeful use of dogs to search for murder victims might be much older. In 1809, a court clerk used his dog to perform a cadaver search in a German murder investigation. The case was of serial killer Andreas Bichel, known as the Bavarian Ripper (or Mädchenschlächter in German). Two girls disappeared mysteriously in 1806 and 1808 in Bavaria. One had disappeared after visiting Andreas Bichel, but he claimed she had left his home with another man. In May, 1809, one of the girl's sisters visited a tailor and recognized part of the missing girl's skirt in his workshop. She contacted the police, who questioned the tailor. He said Andreas Bichel had given him the material to make him a vest.
The court opened its investigation the following day and searched Bichel's house, finding more clothing from the missing girls, but no bodies. Two days later, the court clerk decided to take his dog for a walk past Bichel's house. This dog most certainly did not have the training of a modern cadaver dog. Nevertheless, it alerted repeatedly at a wood shed. This led to a search of the shed, the discovery of the victims buried behind the shed, and Bichel's confession and conviction. He had lured the girls into his house with the promise of a magic mirror that would show them their future husbands. Then he killed them for their clothing. Bichel was executed on June 9, 1809.
No where in the case report did the dog receive special credit. But the Bichel case might be the first recorded instance of forensic use of a dog to search for a cadaver. And for the history of cadaver dogs' work in law enforcement, we can all express our thanks.
What are some of the unusual things your dog has found using its sense of smell?
Some literature on point:
Paul Johann Anselm von Feuerbach, Andreas Bichel, der Mädchenschlächter. In: Altenmäßige Darstellung merkwürdiger Verbrechen (3rd ed. Aalen: Scientia 1984;  1st ed.Geißen: Müller 1811).
Andrew Rebmann, Edward David & Marcella H. Sorg, Forensic Training and Tactics for the Recovery of Human Remains (Boca Raton, Florida: CRC Press: 2000)
Cat Warren, What the Dog Knows (New York: Touchstone: 2013)
(c) 2014 Ann Marie Ackermann
Read More
Why is Friedrich Schiller called the father of the modern true crime story in Germany? It's because his debut crime story changed the genre. Schiller shifted the focus from sensationalism to motive. Here's the tale in a nutshell.
Christian Wolf,* the poor, half-orphaned son of an innkeeper, fell in love. Because he was ugly, the only way he could woo his Johanne was by showering her with gifts. To afford them, he hunted in the bordering royal forest. But that was poaching. According to law, all forest game belonged to the sovereign.
Robert, the game warden, also loved Johanne. He wanted nothing more than to eliminate his rival. Robert frequented Wolf's inn, just to investigate the sources of the innkeeper's good fortune. The he started tracking Wolf through the woods. He eventually caught Wolf in the act, forcing Wolf to sell his inn to pay the fine for poaching.
Now Wolf had no income. He had no other choice than to return to poaching. But two more arrests led to four years in prison. There, other prisoners taught Wolf how to live a criminal life. After his release, no one would offer him a job, even as a swineherd. Full of anger, Wolf returned to poaching, and when he encountered Robert in the woods, shot and killed him in revenge. Wolf then became the leader of a feared band of robbers living deep in the woods. Theirs was the only society in which he found any kind of acceptance or honor. He became a famous, feared highwayman, known as the "innkeeper of the 'Sun.'"
One year later, the band's infighting got on Wolf's nerves. He realized how immoral he'd become. Wolf decided to cross the border into Prussia, become a soldier, and lead a just life. But on the way to Prussia, a watchman thought he looked suspicious and arrested him. When the judge showed him compassion, Wolf revealed his identity. "I am the innkeeper of the 'Sun,'" he announced.
Schiller ended the story with the confession. He left out the trial and execution (although they really did occur). Rather, Schiller asks what society did that forced Wolf to turn to crime. Is a law against hunting fair when people are starving? May a law enforcement officer stake out a rival for personal reasons? Have our prisons become schools of crime?
What was the last true crime book you read? Did it focus more on the trial and punishment or on societal conditions that contribute to crime?
*Schiller provided a fictitious name. The real criminal, on whom this story is based, was Johann Friedrich Schwan.
(c) 2014 Ann Marie Ackermann
Read More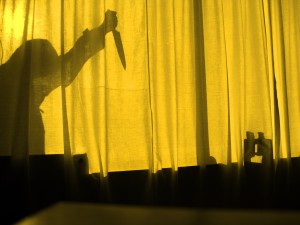 Murder mystery authors harbor a secret they don't want you to know. I won't exactly tell you the secret (it would spoil mystery books for you forever after), but I can tell you a bit about the theory behind it.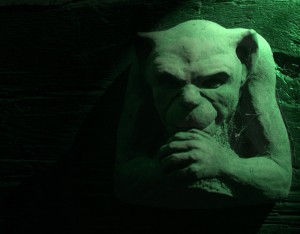 At a writers' conference for murder mystery authors near Seattle in the early 1990s, I learned a bit of the craft. Classic whodunits follow a proscribed convention. The culprit appears in the opening chapter(s), where the author identifies him or her by using a trick based on Jungian psychology. According to theory, your subconscious mind picks up on that trick and knows instantly who the murderer is. And that is what makes the mystery emotionally satisfying: you know the right guy has been caught. At the end, your conscious knowledge of the wrongdoer's identity catches up with your subconscious awareness.
Identifying the perpetrator is what lies at the heart of the murder mystery. It also underscores the difference between true crime and the murder mystery. In most cases, we already know the identity of the killer before we pick up a true crime book. As one critic put it, "It is not the identification of the killer that provides the [enjoyment] in the true crime tale (as it does in detective fiction), but the ascription of an intelligible motive for the crime."* Germany's renowned poet, Friedrich Schiller, would agree. In his first true crime story, he wrote that dissection of the criminal's motive is the driving force of the true crime genre.
What do you think prompts most people to read true crime today? Motive? Entertaintment? Curiosity about police investigations? 

Literature on point:

*Sara L. Knox. Murder: A Tale of Modern American Life (Durham, N.C.: Duke Universtiy Press 1998) pp. 110-11.

Friedrich Schiller, Criminal from Lost Honor.

(c) 2014 Ann Marie Ackermann
Read More
In Spain and Slovenia, it's an ivy bush. In France, a bundle of straw. Austria and Italy hang out pine branches and Germany and Switzerland birch brooms. You'll often find them out in the country, dangling sentinel before a farmhouse.
The vintner's bush is a centuries-old form of advertising. Many European countries allow winemakers to market their own wines by opening their farmsteads and setting up temporary taverns. The farmers need no restaurant licenses, and in some countries, don't even need to charge sales tax, so the food is cheap. But there's a catch. So that the vintners don't undermine commercial restaurants too much, their opening periods are often restricted to a few weeks per year and they may serve only simple, homemade wines and food.
In Germany, these taverns (Straußwirtschaft or Besenwirtschaft) enjoy soaring popularity for their rustic, intimate atmospheres and good, inexpensive food. Expect home-baked bread, several kinds of sausages and pork, homemade sauerkraut, and in the spring, sometimes asparagus. But the cultural aspects are perhaps even more interesting. This is where people come to meet, chat, and linger for hours over a glass of wine. In Heilbronn, Germany, a vintner's bush tavern is where people secretly met to plot against Hitler's regime. The Nazis hated these farmstead taverns for precisely that reason, but they proved powerless stop such an old tradition.
It's part of English tradition, too. J.R.R. Tolkien wove the vintner's bush into his opening chapter of the Lord of the Rings. At an inn called The Ivy Bush, hobbits speculate about Bilbo's upcoming birthday party. "Good wine needs no bush," quipped Shakespeare in the epilog to As You Like It. Of course it doesn't, but what Shakespeare doesn't say, and what a lot of Europeans already know, is that the bush makes the wine a lot more fun.
Have you ever visited one of these taverns in Europe? Where were you? And what was your experience?
(c) 2014 Ann Marie Ackermann
Read More