Germany as a haven after the Lincoln assassination
One of the lesser known aspects of the Lincoln assassination is the aftermath that played out in Germany. All the surviving occupants of the presidential box at Ford's theater ended up moving to Germany. Mary Todd Lincoln and her son Tad lived in Frankfurt from 1868 to 1870, and Henry Rathbone moved to Hanover with his wife Clara and children in 1882 when the president appointed him U.S. Consul there. [Rathbone then became involved in a true crime himself. He murdered his wife a year later in Hanover – but that will be the subject of another post.]
I enjoy following the Lincoln and Rathbone sojourns in Germany because I live here, speak the language, and can research them. And that's why a letter from Mary Todd Lincoln about a castle ghost caught my eye. There's a possible mistake in there that's leaked out into the biographical literature and I hope to point it out with this post.
Mary Todd Lincoln in Germany
Mary stayed at the Hotel d'Angleterre in Frankfurt while Tad attended boarding school nearby. By February, Frankfurt had gotten too cold for her and she decided to travel to the Mediterranean. Along the way, she stopped at the spa town of Baden-Baden in the Rhine Valley. Once she reached Nice, France, Mary penned a letter to her friend Eliza Slataper, a member of the Lee family in Virginia:
En route to Nice, I stopped for a day or two at Baden to see a lady from America, who resides most of the time in Europe. We visited a castle near Baden, where the veritable "White Lady," is said, delights most to dwell, and where Napoleon signed his memorable treaty, in roaming the immense building, I said to our two attendants "have you ever seen her" – to which, of course, they both replied – "We often do." As you know, Germans are very superstitious, and from the King of Prussia, down to his humblest subject, believe in her frequent appearance.*
Mystery of Mary Todd Lincoln's castle ghost
Who or what was Mary Lincoln's castle ghost? And where was the castle the white lady haunted? The answer is elusive.
One biography identifies the castle as the Hohenzollern castle in the Province of Hohenzollern. The royal family of Hohenzollern fits nicely to the white lady story. Kunigunde von Orlmünde, a widowed mother, she was engaged to marry another member of the Hohenzollern family, but thought her children came between herself and her fiancé. So she stabbed her children's skulls with a needle and killed them. Later she sought repentance in Rome and entered a convent, where she died in 1351. According to legend, her ghost appeared throughout history to various members of the Hohenzollern family before they died, including the King of Prussia. Thus, Mary's mention of the king in her letter appears to be a reference to the white lady of the Hollenzollern dynasty.
But the Hohenzollern castle as the dwelling for Mary Todd Lincoln's castle ghost presents some problems. Several Prussian castles, including Berlin, Kulmbach, Rudolstadt, and Bayreuth, belong to the white lady's traditional haunts, but I can't find a reference to her ever spooking the Hohenzollern castle itself.
Problem of distances
There's yet another reason why Hohenzollern can't be the home of Mary Todd Lincoln's castle ghost. It's too far away. Baden-Baden lies on the west side of the Black Forest. To travel from Baden-Baden, Mary would have had to cross or skirt the Black Forest mountain range from the Grand Duchy of Baden into the Kingdom of Wurttemberg, and from there cross the Neckar Valley to the east and travel up into the Prussian Province of Hohenzollern on the Swabian Alb plateau. That was 44 miles as the crow flies, but at least 68 miles on the road, and three different countries.
Mary and her friend couldn't have saved time by travelling by train, either. The Zollenalb train line connecting Tübingen to Hechingen (the nearest town to the castle) didn't open until June 29, 1869, several months later. The women would have had to have completed at least part of the trip by horse and carriage. The journey, then, would have been too long to fit in as a side trip during a one to two day visit to Baden-Baden.
Napoleonic treaty riddle
Mary's other clue, that Napoleon signed a treaty at the castle, doesn't help either. Napoleon, as far as I can determine, never signed a treaty at the Hohenzollern castle nor at any other castle in southwestern Germany. Mary might have been confused on that point. Please correct me if I'm wrong and leave a comment if you know what Mary might mean by  Napoleon's castle treaty.
Hohenbaden castle and the gray lady
A prime location for Mary Todd Lincoln's castle ghost would have been the Hohenbaden castle right next to Baden-Baden – one of the city's major tourist attractions – and a very manageable side trip from town. The Hohenbaden castle doesn't have a white lady, though. It has a gray one. And her story would have been far more intriguing to Mary Todd Lincoln.
The margravine who lived in the castle and became the gray lady after her death was a different kind of a mother than the white lady of the Hollenzollerns. By all accounts, she loved her baby son more than anything in the world. One evening, she wanted to show him his inheritance. She took him up a high tower and held him out over the balustrade to show him all the villages, fields, and farms over which he would one day rule. But he slipped out of her hands and tumbled down the castle walls and cliffs. Panicked, the margravine rushed down all the castle steps to search the ground below the cliffs. Although she had all her servants and maids help her, she never found her little boy's body again. The margravine died in grief. Now, according to the Baden-Württemberg's official website for its castles and gardens, she haunts the castle. You can still hear the margravine wailing as the wind whips the crevices in the cliffs, and at midnight, her gray-clad apparition drifts from room to room, her long white hair waving about her face.
Mary, who herself had two sons slip through her fingers into eternity, would have related much more to the mourning gray lady than the murderous white one. Might her memories of Edward and Willie have prompted her questions to her tour guides?
Gray lady in folklore
Although gray lady ghosts aren't as common as the white ones, they do pop up in 19th-century literature. The gray lady of Caputh is another example, as is Maillais's "Grey Lady" in Scotland. By 1846, a poem about the gray lady of Hohenbaden appeared in a collection of Baden legends. To give you a taste, I've translated the first four lines:
Habt ihr gehört von der grauen Frau
Im Bergschloß Hohenbaden?
Bethört von finstrer Macht, dem Gau
War sie zu Schreck und Schaden.**
Have you heard of the lady gray
In Hohenbaden's cliffside palace?
Bewitched by darkness, she steals away
To spew her fright and malice.
The poem underscores the fame of the gray lady by the time Mary visited Baden-Baden in 1869. Today, the castle's website describes the gray lady as the most famous of the castle's legends. The ghost could have easily become a subject of the castle tours by the time Mary visited in 1869.
Hohenbaden as the better choice
It's possible that Mary got the color of the ghosts mixed up by the time she reached Nice and wrote her letter. Even the names of the castles are quite similar, Hohenzollern and Hohenbaden. That might have confused her in any conversations or reading on the topic.
Nevertheless, the Hohenbaden castle, for its proximity to Baden-Baden and a ghost story that matches Mary's letter, offers a far better alternative than Hohenzollern for Mary's side trip destination and the haunt of Mary Todd Lincoln's castle ghost.
The question of where she thought Napoleon signed his "memorable treaty" remains open and offers a way to solve the riddle of Mary's destination. My cursory survey of the treaties Napoleon I and III signed didn't turn up anything in a southwestern German castle. Knowledge, however, is a cumulative and cooperative effort, and perhaps a reader knows more about the topic than I do. Please leave a comment if you can contribute. In doing so, you'll also augment Mary Todd Lincoln's biography.
You might also enjoy reading about Mark Twain's visit to Baden-Baden several years later and his encounter with the Prussian empress or two posts on Frederick the Great, a member of the Hohenzollern dynasty: How Frederick the Great's Sword Helped Spark the Civil War and The Five Greatest Criminal Trials of History, which covers his judgment in the trial of the miller Arnold.
Literature on point:
Baden-Württemberg, Städtliche Schlösser und Gärten, "Ein Geist im alten Schloss: Die graue Frau," Altes Schloss Hohenbaden.
Betty Boles Ellison, The True Mary Todd Lincoln: A Biography (Jefferson, NC: McFarland, 2014).
Jan von Flocken, "Die weiße Frau – ein Gespenst macht Geschichte," Welt (Oct. 7, 2007).
**Ignaz Hub, "Die Graue Frau von Hohenbaden," in Badisches Sagen-Buch II, August Schnezler, ed. (Karlsruhe: Creuzbacher & Kasper, 1846), 180-184.
*Mary Todd Lincoln to Eliza Slataper, Feb. 17, 1869 (in Turner, 26-27).
Literarisches Colloquium Berlin, "Die graue Frau," Literatur Port (2015) [gray lady of Caputh].
Stephanie Graham Pina, "The Grey Lady," Pre-Raphaelite Sisterhood (April 19, 2017).
Justin G. Turner, "The Mary Lincoln Letters to Mrs. Felician Slataper," Journal of the Illinois State Historical Society 49(1):7-33 (Spring 1956).
Read More
Did the church usher mistake him for a duke?
And did Mark Twain mistake the empress for someone else?
Mark Twain's account of an encounter with Empress Augusta of Germany counts among his most hilarious sketches of Baden-Baden. It appears in A Tramp Abroad, where he recorded his 1878 visit to an English-speaking church in the German resort town.
In the church sat a celebrity: As the wife of Emperor Wilhelm I of Germany, Augusta of Saxe-Weimar-Eisenach (1811-1890) held the titles of Queen of Prussia and Empress of Germany. She was well-connected. Empress Augusta of Germany was Catherine the Great's great-granddaughter, and her grandson Friedrich married Queen Victoria's oldest daughter.
And that makes Mark Twain's description of her particularly puzzling.
Mark Twain and the Empress Augusta of Germany in Baden-Baden's church
 Because his hired coachman was so well dressed, wrote Twain in A Tramp Abroad, "we were probably mistaken for a brace of stray dukes; why else were we honored with a pew all to ourselves, away up among the very elect…. In the pew directly in front of us sat an elderly lady, plainly and cheaply dressed; at her side sat a young lady with a very sweet face, and she also was quite simply dressed; but around us and about us were clothes and jewels which it would do anybody's heart good to worship in."
Twain began to feel sorry for the old lady:
I thought it was pretty manifest that the elderly lady was embarrassed at finding herself in such a conspicuous place arrayed in such cheap apparel; I began to feel sorry for her and troubled about her. She tried to seem very busy with her prayer-book and her responses, and unconscious that she was out of place, but I said to myself, "She is not succeeding–there is a distressed tremulousness in her voice which betrays increasing embarrassment." Presently the Savior's name was mentioned, and in her flurry she lost her head completely, and rose and curtsied, instead of making a slight nod as everybody else did. The sympathetic blood surged to my temples and I turned and gave those fine birds what I intended to be a beseeching look, but my feelings got the better of me and changed it into a look which said, "If any of you pets of fortune laugh at this poor soul, you will deserve to be flayed for it." Things went from bad to worse, and I shortly found myself mentally taking the unfriended lady under my protection. My mind was wholly upon her. I forgot all about the sermon. Her embarrassment took stronger and stronger hold upon her; she got to snapping the lid of her smelling-bottle–it made a loud, sharp sound, but in her trouble she snapped and snapped away, unconscious of what she was doing. The last extremity was reached when the collection-plate began its rounds; the moderate people threw in pennies, the nobles and the rich contributed silver, but she laid a twenty-mark gold piece upon the book-rest before her with a sounding slap! I said to myself, "She has parted with all her little hoard to buy the consideration of these unpitying people–it is a sorrowful spectacle." I did not venture to look around this time; but as the service closed, I said to myself, "Let them laugh, it is their opportunity; but at the door of this church they shall see her step into our fine carriage with us, and our gaudy coachman shall drive her home."
Then she rose–and all the congregation stood while she walked down the aisle. She was the Empress of Germany!
No–she had not been so much embarrassed as I had supposed. My imagination had got started on the wrong scent, and that is always hopeless; one is sure, then, to go straight on misinterpreting everything, clear through to the end. The young lady with her imperial Majesty was a maid of honor–and I had been taking her for one of her boarders, all the time.
This is the only time I have ever had an Empress under my personal protection; and considering my inexperience, I wonder I got through with it so well. I should have been a little embarrassed myself if I had known earlier what sort of a contract I had on my hands.
We found that the Empress had been in Baden-Baden several days. It is said that she never attends any but the English form of church service.
 Truth or tall tale?
 With Mark Twain's travel literature, it's not always easy to tell. Germans love to say that Twain's 1878 raft trip down the Neckar River, a travel adventure covering several chapters in A Tramp Abroad, inspired Huckleberry Finn, published just a few years later. But that trip never happened – a fact documented in Twain's travel journal. His German riparian expedition navigated nothing more than the river of his imagnination.*
On the other hand, one of Twain's most incredible tales – about a secret passage in the town in Dilsberg, Germany, with its entrance in the town well – turned out to be true. Inspired by Twain's story to search for it, archaeologists discovered the passage years later. It's now open to the public and one of Dilsberg's tourist attractions. Some of Twain's tall tales do have kernels of truth in them. Twain's interplay between fact and fiction make him so interesting.
So how much of Twain's story about Empress Augusta of Germany can we trust?
To answer that, I turned to one of her biographers, Karin Feuerstein-Praßer. She joins us today, not only to insert her historical scalpel between Twain's fact and fiction, but to introduce us to a woman who wasn't afraid to buck convention and was fascinating in her own right. You can read about Feuerstein-Praßer's book, Augusta: Kaiserin und Preußin, below.
Interview with biographer Karin Feuerstein-Praßer
 Frau Feuerstein-Praßer, did Empress Augusta of Germany visit Baden-Baden often?
Yes, she came there regularly, especially to meet with her daughter Luise, the Grand Duchess of Baden.
 Did she worship at the English church there?
That hasn't been precisely documented, but it's entirely possible. Augusta had – much to the regret of her subjects – a preference for all things English (and French), which one can see in her reading material. Although she grew up to a certain extent under Goethe's wing, German literature hardly interested Augusta at all.
 Where would she have sat in the church?
Augusta was a very status-conscious lady who always avoided contact with "ordinary" people. She would have never mixed with "normal" visitors in the church, but would have taken a separate place of honor.
 Was Empress Augusta of Germany very religious? Would it be in character for her to curtsey at the name of the Savior instead of inclining her head like everyone else?
 Yes, August was indeed a deeply religious woman who interpreted her Protestant faith in her own fashion. As a child, she often accompanied her mother, Maria Pavlovna, to Russian Orthodox services and loved its mystical atmosphere, redolent with incense. The Protestant faith was much too sterile for her; she missed the sensual experience, the spirituality. For this reason, it's possible that Augusta curtsied during the service, perhaps as a reflex from her childhood, but perhaps it was also a gesture with which she wanted to express her own conviction. Whenever Augusta took leave of her children, for example, she blessed them with the sign of the cross, which was in no way usual for Protestants.
 Was she a member of the Pietist movement?
 No, definitely not. Like I said, she tended towards Catholicism, and her opponents even accused her of having secretly converted to the Catholic faith. That, of course, is complete nonsense.
 Twain says she snapped her smelling bottle a lot. Was she known to carry a smelling bottle and use it?
 Smelling bottles like that were actually more for temperamental ladies who wanted to call attention to themselves. Augusta was exactly the opposite. She was a dutiful and disciplined woman through and through who would have never allowed the public to see her human weaknesses. Her use of a smelling bottle is thus extremely unlikely. And if she did use one, then Augusta would have never "played" with it during a church service.
 You describe in your book how Augusta wasn't feminine enough for the emperor. Was her dress unfeminine or inelegant?
 When Wilhelm married Augusta, he was already a man of ample erotic experience. He had hoped to find a sensual partner in Augusta, but the exact opposite was the case. She was cool and disciplined in bed. Sex didn't appear to be much fun for her. In his letters, Wilhelm always complained of Augusta's "lack of femininity." But that didn't apply to her clothing, in fact, the opposite was true. Already as a young woman, Augusta was very fashion-conscious, and for the somewhat conservative Prussian royal house, way too fashion-conscious. It annoyed Wilhelm that his wife had to follow every trend, and he hoped that would blow over with time. She was only 17 years old when they got married.
 Do you think it's at all possible that Mark Twain could mistake Empress Augusta of Germany for a poor woman?
I consider it absolutely inconceivable. The period reports all emphasize that Augusta was invariably attired to perfection and with elegance. She used cosmetics, valued a well-fitting hairstyle, and wore jewelry – and all that into her old age. It is of course possible that she selected more ordinary clothing for her church visit, but nevertheless, representation of "majesty" was important to her, everywhere and at all times. There was absolutely nothing folksy about her.
 Thank you, Frau Feuerstein-Praßer!
  Have you ever encountered a celebrity without knowing who they were? It's happened to me!
 Literature on point:
 Mark Twain, A Tramp Abroad, ch. XXIV (public domain)
Mark Twain, Notes and Journals
Karin Feuerstein-Praßer, Augusta: Kaiserin und Preußin (Munich: Piper Verlag, 2015)
*Richard Bridgman, Traveling in Mark Twain ((Berkeley: Univ. of California Press, 1987) 100.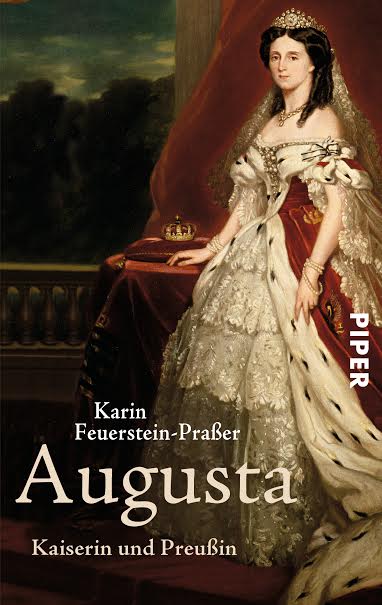 About the book, Augusta: Kaiserin und Preußin: When the Princess Augusta of Saxe-Weimar-Eisenach married the Prussian Prince Wilhelm, she had no idea she would one day become the first empress of Germany. Raised in the cultural atmosphere of Goethe's era, she was highly educated and had pronounced appreciation for art. Only with the Revolution of 1848 did she step into the spotlight of history: As the liberal wife of the Prussian king and later emperor, she sought to influence her husband's conservative politics. But she had a powerful enemy in Otto von Bismark, whose military plans to unite Germany were hated by the staunch pacifist.
 Piper Verlag, 320 pages. Unfortunately available only in German.
The author, Karin Feuerstein-Praßer, ist a freelance historian in Germany and author of numerous biographies.
Read More