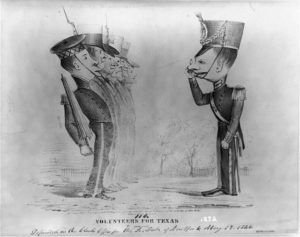 Did women enlist in the Mexican-American War? Last week I blogged about Eliza Allen Billings. She wrote a bestselling book about fighting in the war disguised as a man. Most historians, however, dismiss her story as fictional.
But that doesn't mean other women didn't successfully masquerade as men. There were several female soldiers in the Mexican-American War, and it was often love that drove them to enlist.
Here are their stories.
Hoosier heroine: What state can beat this?
Although one Indiana newspaper called her a heroine, this unnamed woman lasted only 13 days before the army discovered her secret. Dressed as a man, she enlisted in Company K of the 2nd Indiana Infantry. That a company hailed from Evansville and served under Captain William Walker.
The Hoosier volunteers rendezvoused in Camp Whitcomb in New Albany, Indiana, on June 7, 1846. There, U.S. Army officers received them and mustered them into service. The army had really no excuse for mustering in a female. Its own regulations required a doctor to conduct a physical examination of every recruit and the recruits were required to strip naked. But under pressure to muster troops in quickly, many physicians did shoddy work. History records one volunteer company that was examined fully clothed.
Somehow our Hoosier heroine slipped through. The U.S. Army inspected her and her company and mustered them all in. But before her company left by steamboat for the next rendezvous point in New Orleans, she got caught.
A handkerchief betrays her
At least four newspapers tell the story.* On June 20, one man in Company K lost his handkerchief. When men sat down to mess, he noticed it stuffed in his comrade's "bosom." He snatched his handkerchief back and made a shocking discovery. His comrade's bosom was, er, a little different from his own bosom.
Company K confronted the Hoosier heroine. She broke down and told her story:
[W]ith tears in her eyes, and the deepest and apparently most sincere manner, she stated that she was poor and friendless: that her father was a soldier in General Taylor's army on the Rio Grande and that she knew of no other way of getting to her father than by joining the army which was to be ordered to the place where he was stationed…. She says she is a resident of Tennessee and gave the names of her parents and many of their neighbors.**
Her company sends her home
Our heroine then left for Louisville. Her company raised a subscription to take her further downstream by steamboat. And with the current of the Ohio River, the rest of her story got lost to history. If anyone wants to track her down, this site has a list of the names of Captain Walker's company. Her male pseudonym might be among them. And her muster roll card just might list her true name along with the explanation for her discharge.
The Hoosier heroine could consider herself lucky. Captain Walker and many members of her company were killed in February 1847 at the Battle of Buena Vista in Mexico.
Even though this woman's audacity strained against the boundaries of acceptable behavior for women in the 1840s, Indiana seemed proud of her. The Indiana Democrat called her actions "heroism." The Indiana State Sentinel dubbed her a "heroine." It went on to ask with beaming pride, "What state can beat this?"
Bill Newcom: Discovered to be a disguised woman
As it turns out, at least two other states can. Their female soldiers in the Mexican-American War managed to stay undiscovered much longer. Missouri was one of them.
Elizabeth Caroline Newcom followed her lover, Lieutenant Amandus V. Schnabel, into the war. She enlisted in Fort Leavenworth, Kansas, in September 1847. Under the name Bill Newcom, Elizabeth joined Company D of the Missouri Mounted Volunteers. Her battalion protected the Sante Fe Trail. Although she performed the duties of a soldier for at least half a year, her battalion never saw battle. By May 1848, Elizabeth was pregnant. Schnabel urged her to desert by jumping a supply train headed east. But the army caught her and discharged her. Her muster roll card lists the reason for discharge: "Discovered to be a disguised woman." You can view her muster roll card here.
Elizabeth's boyfriend, Lt. Schnabel, then had to face court martial charges. The army dismissed him for having deprived the country of a good and competent soldier.
Shelby Harriel, a historian who specializes in female soldiers of the Civil War, tracked Elizabeth's life after her discharge. Elizabeth married someone else in 1853. She also managed to score a major financial success that eluded other female soldiers in the Mexican-American War: Elizabeth applied for a land grant owing volunteers who had participated in the war. President Franklin Pierce approved both her land grant and back pay.
Alabama: disguised as a brother
Alabama is another state that contributed to the list of female soldiers in the Mexican-American War. One volunteer from Mobile didn't want to leave his brother at home alone. He asked if he could bring him along, even though he was frail. The captain agreed. The "brother" didn't enlist, but lived among the soldiers and followed the camp. He stayed to himself and avoided rough physical activity.
After rumors circulated that the relationship between the two was more than fraternal, the captain requested a physical examination by the battalion physician. He discovered the brother was a woman. The army ordered her to leave camp and her company subjected her "older brother" to ridicule.
These female soldiers in the Mexican-American War had various reasons for joining the army. With which woman's story do you identify the most?
* Special thanks to Shelby Harriel for discovering the article in the Baltimore Sun. She maintains a fascinating website about female soldiers in the Civil War that's well worth a visit.
** Indiana Democrat, June 22, 1846, cited in Perry, 65.
Literature on point:
The Civil War – Captain Walker and His Company, Chapter XVII, Military History, Genealogy Trails History Group (website).
"A Female Soldier." Highland messenger (Asheville, N.C.) July 24, 1846.
"A Female Soldier." Baltimore Sun, June 30, 1846.
Lisa Tendrich Frank, ed., An Encyclopedia of Women at War (Santa Barbara: ABC-CLIO, 2013) s.v. "Newcom, Elizabeth."
Shelby Harriel, "They fought in the Mexican War, too!" (blog post, July 1, 2015)
"A Heroine." Indiana State Sentinel, July 2, 1846
James M. McCaffrey, Army of Manifest Destiny: The American Soldier in the Mexican War: 1846-1848 (New York University Press, 1992)
Oran Perry, ed., Indiana in the Mexican War (Indianapolis: William B. Burford, 1908).
Spence Tucker et al., eds., The Encyclopedia of the Mexican-American War (Santa Barbara: ABC-CLIO, 2013) s.v. "Women, U.S."
Merken
Merken
Merken