Interview with Author and Cadaver Dog Handler Cat Warren
CAT WARREN is a professor and former journalist with a somewhat unorthodox hobby: she works with cadaver dogs—dogs who search for missing and presumed-dead people. What started as a way to harness the energies of her unruly, smart, German shepherd puppy, Solo, soon became a passion for them both (though Solo thinks it's simply a great game, with the reward of a toy at the end). They searched for the missing throughout North Carolina for eight years. Cat is the author of What the Dog Knows: Scent, Science, and the Amazing Ways Dogs Perceive the World. You can visit her website at What the Dog Knows.
Ann Marie: Most cadaver dog handlers work on a volunteer basis. Why is that?

Cat Warren: It's mostly about budgets. The fact is, cadaver dogs aren't needed every day in the same way a patrol dog is needed every day. One of the founders of the field, Andy Rebmann, started the first cadaver dog program in the late 1970s with the Connecticut State Police. That program has survived up through the present. Other programs spun off from Andy's founder effect—Rhode Island, Massachusetts, New Hampshire, Vermont, Maine. And a couple of large cities, New York and Chicago, have cadaver dogs and handlers. There are a few larger departments in the United States that still have cadaver dog and handler teams, and some small ones scattered across the country, especially sheriff departments, partly because their work can tend to be more rural. But increasingly, law enforcement depends on volunteers for this function. A good volunteer dog-and-handler team can produce some excellent results.
Let's get the big question out of the way first. I can imagine that the biggest objection most people would have to cadaver searching is the shock and horror of finding a dead body. What would you tell them?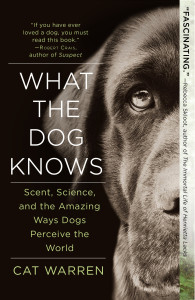 I have a harder time watching a show like Bones or any Hollywood version of death and decay than I do looking at a dead body out in nature. I think we media-saturated Westerners are now hardwired to replay all the worst possible film and television scenarios in our heads. But decomposition, even human decomposition, is usually a quieter phenomenon. The human violence or tragedy that brought the victim to that spot is past, and I have trained myself not to focus on that, especially when we are searching. It's important that the dog have a good time; that's how they do their best work: in happy mode. Any dread the handler feels, as trainers note, goes right down the leash. It's the handler's job to let the dog do his best work. Besides, for me and — I expect, for the majority of searchers — finding the person who is missing and dead represents success. Absolutely, it's sad that someone has died, but it's not a surprise. We usually know going out to search that the outcome probably won't be finding someone alive. Finding the victim is the beginning of a resolution for those who knew the person, and for law enforcement. I do understand it when people think I must do this work as a dutiful public service. No. It's a challenging puzzle, it pushes dogs and handlers to their mental and physical and scent limits. Plus, I get outside, often in the woods, and I get to watch dogs use their noses — one of the most pleasurable sights on earth.
What are the qualities that make a good cadaver dog?
The same qualities that make any good scent detection dog make a good cadaver dog. Good cadaver dogs love to hunt. They have what trainers and handlers call "drive," which is a complicated and often misunderstood term. To oversimplify, a dog with drive has a lot of engine underneath its hood, even if it doesn't have that engine revved in every situation. Often, with scent detection dogs, trainers look for dogs who are toy- or ball-obsessed because that obsession can be transferred over to the hunt for the particular scent the dog is being trained to find.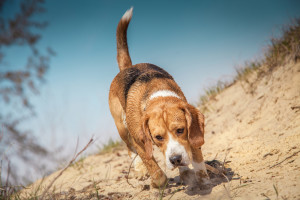 A good cadaver dog needs to have a good nose, an ability to focus, the desire to work long and hard for a reward, and be in good physical, and mental condition. Good cadaver dogs need to be both deeply bonded to their handlers, but also be independent and able to make decisions on their own. It's a strange combination when you think about it — but you want dogs that are experts, in a way. You want to work with a dog that says, "let's go this way, not that way." And finally, a good cadaver dog is trained on a spectrum of human decomposition scent: from teeth and old bone up to material that is much fresher.
And a good handler?
Ah, I wish I were capable of doing all the things that make a good handler. Then I would be a better one. It takes an enormous amount of talent, time, dedication, imagination — and patience! When I watch good handlers work, here is what I see: They have great timing, so that they are rewarding their dogs at the exact moment necessary. Too soon or too late on the reward, and the dog doesn't understand what it just did correctly. Good handlers are able to push their dogs by challenging them to learn more and do better, but not so much that their dogs lose their sense of security. In other words, it's a delicate balance to create independence and expertise in dogs without throwing too much at them. But good handlers are always setting up increasingly difficult puzzles in training. Good handlers get out of the way of their well-trained dogs and let them work without interference. They set the dog up for success on searches. That means paying a great deal of attention to terrain and weather conditions, and what else is out in the environment. When I see good handlers work with their dogs, the process looks effortless and easy. Of course, it's not.
How do you train a dog for cadaver searches?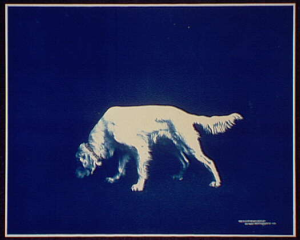 That's such an interesting question — and a complicated one. You train them both to be environmentally "hard" that is, to ignore and work past distractions, such as weird surfaces, rubble, fallen trees, the scent of other animals, traffic (cars and people). You also train them to recognize the whole spectrum of human decomposition. Bombs, drugs, and landmines are chemically simple in comparison to human decomposition. Yet, we do know that solidly trained dogs can tell the difference between deceased human, a dead deer, or aged goat cheese. But it's not straightforward. Forensic anthropologist and research chemist Arpad Vass and his colleagues have identified nearly 480 different volatile compounds coming off of decomposing bodies. It's just a start. He thinks it will be closer to 1,000 organic compounds, though not all of them volatiles, by the time they are finished creating a DOA database — which stands for Decomposition Odor Analysis, not Dead on Arrival.
Where do you obtain the scent for training?
It depends on what state or country you live in, and what the regulations are for that state or country. It's really important to know the laws, exactly, before you obtain scent. For some countries, you can only use what we call "pseudoscent," which is a company's effort to get as chemically close to the scent of human decomposition as possible. Having diverse materials to train on is ideal, and "decomp," as it's called, comes in all varieties, from bone and teeth, to recent blood, to dirt that is harvested from beneath a body that has spent a good amount of time in the woods before being found. Dogs also need to be exposed to what they might find out on a search — a whole body. It can be confusing and even intimidating to some dogs, who are not trained on a daily basis with that much scent. We are fortunate in North Carolina to have a forensic anthropology research facility that helps train cadaver dogs on a small research plot where donated bodies decompose. That facility helps train forensic anthropologists — and cadaver dogs and handlers.
Even if a dog owner isn't sure about training a dog for cadaver searches, what are some other scent games an owner can play with a dog?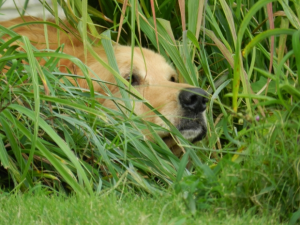 There are so many things that one can do these days with dogs and their noses, from work to sport to just playing in the yard and house. Besides cadaver dog work, there's conservation dog work — helping count and find either invasive or endangered species. There's search and rescue for finding live victims. But many dog owners are finding their dogs love to do canine nose work. It's a relatively recent sport, just like agility, only using many dogs' inherent love of sniffing to get them engaged and confident. And I love to do simple games when it's hard to get the dogs outside. Hiding a particular toy in the house and asking the dogs to go find that toy (and not the others) is great mental stimulation for the dogs. They work together, and get enormously competitive and interested in being the first one to find the hidden toy.
Whom should a dog owner contact if he or she wants to find out more about the possibility of cadaver search training?
It depends on where they live — the first step is to contact their area search and rescue groups, to see what they are doing. In the United States, we have several national groups that are a good place to start: the American Rescue Dog Association, the National Search Dog Alliance, or The North American Police Work Dog Association, which allows non-law enforcement handlers to be associate members, with some restrictions.
I also highly recommend a book entitled Cadaver Dog Handbook: Forensic Training and Tactics for the Recover of Human Remains, by Andrew Rebmann, Edward David, and Marcella H. Sorg. More than any other book, it gives you everything you need to know about the discipline.
Thank you, Cat! Please give Solo a hug from me and tell him I said "bravo!"

What scent games does your dog enjoy? And if you have any questions for Cat Warren, you may post them in the comment section.
Interested in Cat's book, What the Dog Knows? It hit the #7 spot for bestselling paperback nonfiction. Check it out on Amazon!