What would you do if you had clues to a murder no one else knew about?
And what if you knew the authorities wouldn't believe you? Would you still try to preserve your information? Even worse, if the case involved the murder of a U.S. president, your dilemma would take on historical significance. According to Fred Rosen, who recently published a book about the assassination of President Garfield in 1881, that's exactly what happened. Through newly accessed documents, Rosen found hints about the true assassin in Alexander Graham Bell's correspondence. Those clues don't point to Charles Guiteau, the disappointed office-seeker who shot and injured President Garfield at a train station.
Who murdered President Garfield, then? Dr. Bliss, Garfield's treating physician who managed the president's bullet wound, says Rosen. Bliss has long been suspected of committing malpractice by mismanaging the case and using unsanitary techniques. An ensuing infection killed the president. But Alexander Graham Bell's correspondence tells a different story: Dr. Bliss purposely sabotaged Garfield's treatment. And his actions crossed the line into criminal conduct.
Fred Rosen, a former New York Times columnist and author of twenty-four books on true crime and history, published his research results on September 1. The book's called Murdering the President: Alexander Graham Bell and the Race to Save James Garfield (Lincoln, NE: Potomac Books, 2016). If the book interests you, Rosen has generously offered a 30% discount for my blog readers. You can download the coupon here.
Fred Rosen joins us for a discussion today on the question of who murdered President Garfield. Welcome, Mr. Rosen!
Interview with Fred Rosen on who murdered President Garfield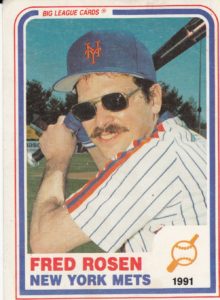 The most surprising claim in your book is that President Garfield's treating physician, and not Guiteau, killed Garfield. Why is that?
Alec Bell left a trail behind him for someone to discover what he knew: that Bliss murdered Garfield and discredited the Induction Balance. I followed that trail because I am a homicide investigator and historian who followed the evidence. Plus, new 2014 medical findings helped. Finally, Bliss's full, previous criminal history that has never before been published until now.
Dr. Bliss had a criminal history?
Dr. Bliss had a long traceable record as a criminal and con man, including being court-martialed for cowardice at the Battle of Bull Run. He also accepted a bribe when he was the head of Armory Square Hospital during the Civil War. That's just the beginning.
What were the 2014 medical findings?
Bliss perforated the President's gallbladder with his unnecessary exploration for the bullet. This has never before been revealed.
Who chose Dr. Bliss as Garfield's treating physician?
Secretary of War Robert Lincoln.
That was Abraham Lincoln's son! Why he choose Dr. Bliss?
Bob Lincoln called in Bliss because he knew he had treated his father after he was shot. On the basis of that publicity, Bliss built a prominent Washington practice, despite the fact that Lincoln's attending physician, Charles Leale, wouldn't let Bliss touch the president. Bob didn't know that because he was out of the room during most of his dad's treatment.
Wouldn't have Guiteau's bullet killed President Garfield anyway even if it weren't for Dr. Bliss?
No. The autopsy showed that the bullet safely encysted inside the president's body. If Bliss had left him alone, President Garfield survives. And even if he decided to operate using the Induction Balance to locate the bullet, he wouldn't have had to explore for it, let alone DELIBERATELY explore for it on the wrong side of the president's body. That is why it is second-degree murder.
When does medical malpractice cross the line into murder?
That is what second-degree murder is: depraved indifference to human life. Exactly what Bliss did.
Candice Millard wrote a bestselling book about Garfield's death in 2012 — "Destiny of the Republic." She also espouses the theory that Garfield's physicians killed him. What does your book offer that hers doesn't?
That is incorrect. I read it. She espouses the theory that his DOCTORS killed him by not practicing sepsis. That is not the case; the evidence does not back her conclusion. Only one doctor killed him. Bliss deliberately killed Pres. Garfield and discredited Alec Bell's invention. That also eventually led to Pres. McKinley's death. It's all in the book.
The other surprising claim in your book is that Alexander Graham Bell invented the metal detector in an effort to save President Garfield's life. Please explain.
Alec Bell figured there had to be a less barbarous way of finding the bullet than exploring for it with the Nelaton Probe and the scalpel through healthy tissue. He knew that magnetism was the answer and so he invented the world's first metal detector to find the bullet in the president's body. And this was 1881!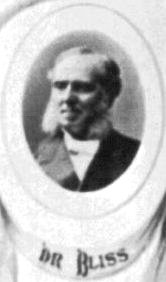 How did Dr. Bliss sabotage Alexander Graham Bell's efforts? And why?
He wouldn't let Bell use his invention; he wielded it, incorrectly, himself. Dr. Bliss wouldn't look for the bullet on the side of the body the other MDs thought it was in because he staked his reputation on it being someplace else in the President's body. He didn't want to look bad in front of the public. And, he did a lot, lot more to deliberately sabotage Bell's efforts It's all in the book, revealed for the first time how Bliss murdered the president.
What kind of a background did Dr. Bliss have?
Trained as a surgeon, he served in the Union Army during the Civil War and ran the other way at the Battle of Bull Run. He was excellent at using newspapers to promote his practice and bad at treating his patients. He was a con man who took bribes and fooled his patients.
Did Alexander Graham Bell leave behind clues to Dr. Bliss's maltreatment of the president?
Yes, in his correspondence with his wife Mabel and the scientific paper he wrote about his efforts that I got ahold of.
Why didn't Bell take that information to the authorities himself?
Because no one would believe a doctor deliberately killed a patient in 1881. And perhaps more importantly, when James Garfield died, Bell was up in Boston consoling his wife and grieving himself: they had just had a son who died at birth.
Is the Hank Garfield who wrote the foreword to your book related to President James Garfield?
Hank is the great-great-grandson of President James Abram Garfield and First Lady Lucretia Garfield.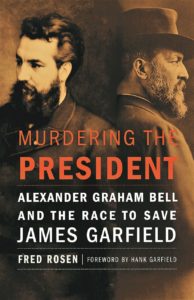 Thank you, Fred Rosen!
My pleasure.

Who murdered President Garfield? Based on what you just read, whom do you blame more for Garfield's death, Charles Guiteau or Dr. Bliss?
Merken
Merken
Merken
Merken
Merken
Merken
Merken
Merken
Merken
Merken
Merken
Merken
Merken