City Gates & the Hue and Cry
Trapped!
It wasn't easy for a criminal to escape from a walled city. In my last blog post, we looked at how the hue and cry – the victim's cry for help – brought townsfolk out onto the streets to start chasing the lawbreaker. The city walls and closely spaced houses amplified the noise, making it an effective technique. But the hue and cry did something else. As the shouting spread from mouth to mouth, the cry often reached the city gates before the villain did. As soon it reached the watchmen, they slammed those gates shut.
An Aid in Criminal Investigations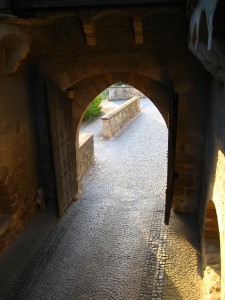 Even if the pursuing citizenry couldn't catch anyone right away, the ability to ensnare an unknown suspect within the city walls gave the investigator a tremendous leg up. He could require innkeepers and even private households to provide a list of their guests that, together with a register of the citizens, formed a finite list of suspects. The interplay between the hue and cry and medieval city structure thus played a significant role in Germany's true crime history.
An integral part of any escape plan, then, had to include a hiding place or a way through the walls. Next week I'll show you one of the places where criminals hid.
Which walled cities have you visited? How easy would it have been to escape?
Literature:
Mittelalterliches Kriminalmuseum, Rothenburg o.d.T.. Justiz in alter Zeit, vol. 4, Schriftreihe des mittelalterlichen Kriminalmuseums Rotenburg ob der Tauber) p. 383.
Clemens-Peter Bösken. Das Ende der grossen rheinischen Räuber- und Mörderbande (Erfurt: Sutton Verlag 2011) p. 33.
Text & images © Ann Marie Ackermann except for first image from Notre Dame: shutterstock.com by Ana Menendez
Merken