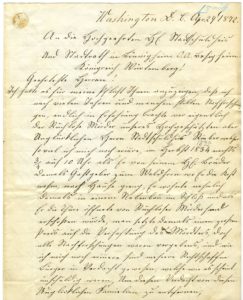 A triple insult
As I scanned the ink scratched onto the yellowing letter, I couldn't help but feel sorry for its author. It's one thing to be falsely accused of a murder. It's another to be driven out of your country. But the final insult is to prove your innocence by solving the case and then be deprived of your just reward. Frederick Rupp, the author, suffered all three insults.
Rupp had written Bönnigheim, a German town, from Washington, DC in 1872, offering the solution to an 1835 assassination of the Bönnigheim's mayor. He had once been a suspect himself. The grinding machinery of the Bönnigheim's rumor mill had driven him from his fatherland to the United States. But now Rupp had the solution – and proof of his own innocence – and asked about the reward Bönnigheim had once issued for information leading to the murderer's identity.
Bönnigheim never paid Rupp the reward of 200 Gulden. It should have, because the German prosecutor closed the case as solved based on Rupp's tip. But the city minutes authorizing the reward got misfiled. And without the minutes, the city wasn't authorized to pay. But poor Frederick Rupp couldn't have known that.
A record-breaking murder case
The murder of German mayor Johann Heinrich Rieber in 1835 fascinates German readers today for its criminal records. It was 19th-century Germany's coldest case ever solved, its only case ever solved in America, and its investigator was the first to have used forensic ballistics. It fascinates American readers for its connection to American history. The assassin died at the feet of Robert E. Lee in the Mexican-American War. Lee wrote a letter home praising the heroism of an unnamed soldier who turned out to be the German assassin. You can read about how all these events fit together in my award-winning book, Death of an Assassin: The True Story of the German Murderer Who Died Defending Robert E. Lee.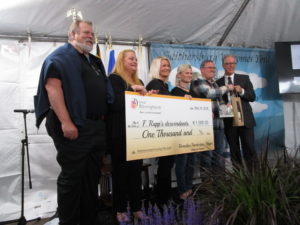 One for the Guinness Book of World Records?
In May 2018, the Rieber murder left another mark on history when Bönnigheim mayor Kornelius Bamberger paid the reward posthumously to Frederick Rupp's descendants. Two of them live in Gaithersburg, Maryland, and their mayor, Jud Ashman invited Mayor Bamberger and me to the Gaithersburg Book Festival on May 19. Four of Rupp's descendants, Richard Humphrey, Cheryl Johnson, Jennifer Manion, and Patricia Beisner were on hand to receive a giant check for €1,000.
With 183 years having passed since the murder, Mayor Bamberger and I believe this was the oldest reward for solving a murder ever paid. The city of Bönnigheim has applied for a new Guinness world record title and is awaiting the results. The award presentation made national news. You can watch C-SPAN's coverage of the reward presentation here.
The white squirrel
You won't see it on C-SPAN's tape, because the cameras weren't rolling yet, but a white squirrel caused quite a commotion as we were setting up for the event. It popped into our tent, ran across the stage, ran back, and repeated its performance a few times. Members of the audience gasped because white squirrels are so rare. You can read about the rare white morph of the eastern grey squirrel here.
Afterwards, one of the Gaithersburg Book Festival organizers pulled me aside. "Do you realize what white squirrels mean in Native American mythology?" he asked. "That was a spirit animal. I think Mayor Rieber [the murder victim] was present to watch this happen."
The thought jarred me. It's the kind of symbolic thing you only see in novels. But several other people came up to me and said the same thing. The white squirrel may not have been a coincidence. And they wanted to know who I thought came to visit us from the other world.
That's fun to ponder. Here are my thoughts.
Mayor Johann Heinrich Rieber
Certainly, Mayor Rieber would have loved watching this event – the final chapter to his own murder 183 years ago. It meant Bönnigheim hadn't forgotten him and the awful crime against him. He would have enjoyed seeing Mayor Bamberger, his successor, bring the case to its final conclusion. In fact, one of the reasons Mayor Bamberger was so set on getting this reward paid was because it concerned the assassination of a mayor. The city of Bönnigheim had a special duty to honor the man who solved the case.
Frederick Rupp
Frederick Rupp was vindicated on May 19, 2018. What better apology and honor could Bönnigheim offer than sending its mayor overseas with a reward for his descendants? He would have watched his four great-great-great-grandchildren with pride.
Barbara Schaefer
Barbara Schaefer, a great-great-granddaughter of Frederick Rupp, was the first descendant Mayor Bamberger and I contacted about the reward. Unfortunately, she died a year before my book came out. And I'm sure she would have loved to have been there.
Patricia Beisner, her daughter, later wrote me with these touching words about the reward presentation:
I have always told myself "Everything happens for a reason". But, I must tell you, most of the time I am left wondering why something happened or what the reason was that a certain situation occurred. Especially since my mom passed away a year and a half ago.
She was my best friend and we spoke two or three times a day, despite her living in Florida 6 months of the year. I looked up to her, admired her, laughed with her and could tell her anything. She was my partner in crime, if you will…..and the day she left, a part of me left with her.
It has been such a struggle for me and I try to find little gifts that she sends me from heaven and yesterday [the reward presentation] was one of these gifts. I think we all had our reasons for being at the book festival. My cousin Rich told you how much joy you brought him by uncovering our family tree. For Mayor Bamberger, it was a trip to the United States and saying thank you to my family. For you, it brought closure to a murder mystery in your town and finally carrying out a reward that was promised so long ago. For me, it was about honoring my mom. She was an amazing woman and had no doubt that this was real. She believed in the goodness of people and just knew that you were sincere and not trying to pull one over on her. She was a people person and would have been in hog heaven meeting and talking with everyone, especially you.
Robert E. Lee
Half a week after the Gaithersburg Book Festival I gave a talk at the Beach Haven Library on Long Beach Island, New Jersey. Discussion once again focused on the white squirrel and whom it might have symbolized.
"But why a squirrel?" someone in the audience asked. "Does the squirrel have a special meaning?"
A great question, and one that hadn't occurred to me before.
One character in the story had quite a strong connection to squirrels, I told the audience, and that was Robert E. Lee. The Lee family coat of arms features a squirrel on top, holding a nut, and the motto at the bottom, "Ne Incautus Futuri" translates to be not unmindful of the future. The squirrel gathering nuts symbolizes that perfectly.
Lee researched his family tree before the Mexican-American War and knew about the Lee family squirrel. So might he have had an interest in visiting our event?
Maybe.
An unnamed hero
Lee had been so impressed with Rieber's assassin he wrote home about him, concluding with a surprising statement that has generated some discussion among Robert E. Lee biographers: I doubt whether all Mexico is worth to us the life of that man. Lee's comments made the man a symbol of the human suffering in the Mexican-American War.
Until publication of Death of an Assassin, no one has asked who the man was. Lee didn't mention his name. I doubt Lee knew it. The assassin fought for an all-German company in the 1st Regiment of the Pennsylvania Volunteers; Lee was a captain in the Army Corps of Engineers and directed fire at a naval battery at the Siege of Veracruz. Fate brought them together when the German company was assigned to defend Lee's battery.
There's no way Lee could have known the man's past history of crime. The story would have shocked him. But throughout his life, Lee might have remembered this death at his very first battle and might have been interested in seeing that story come to a final conclusion too.
Who knows? Maybe the assassin was there as well.
I'd like to think the white squirrel represented all five people. It did, after all, pop in and out of the tent several times!
---
Data protection notice
Please refer to my privacy policy.