Two years ago I interviewed Cat Warren, a cadaver dog handler and author of the New York Times bestselling What the Dog Knows: Scent, Science, and the Amazing Ways Dogs Perceive the World. She gave my readers advice about whether their dogs might make good cadaver dogs.
Her bestseller has now been translated into German and will appear in October 2017. My German readers can watch out for the title Der Geruch des Todes: Einsätze eines Leichenspürhundes (Kynos Verlag; "The Scent of Death: A Cadaver Dog in Action"). To celebrate the launch of the German book, I've posed Cat some new questions to follow up on her fascinating career.
Welcome, Cat Warren!
There are no volunteer cadaver dog handlers in Germany. By law, a cadaver dog handler must be a police officer. For the Germans interested in reading Der Geruch des Todes, could you explain how the American volunteer system works?
It's mostly about law enforcement budgets here in the United States. The fact is, cadaver dogs aren't needed every day in the same way a patrol dog is needed every day. One of the founders of the field, Andy Rebmann, started the first cadaver dog program in the late 1970s with the Connecticut State Police. That program has survived up through the present. Other programs spun off from Andy's founder effect—Rhode Island, Massachusetts, New Hampshire, Vermont, Maine.  And a couple of large cities, New York and Chicago, have cadaver dogs and handlers.  I'm also seeing a resurgence of law enforcement cadaver dogs across the United States. That's hugely anecdotal, I know. But several additional law enforcement agencies here in North Carolina have gotten cadaver dogs, just in the past five years.
And a case that got national attention here in the United States in late July had law enforcement cadaver dogs on the scene. In Bucks County, Pennsylvania, two cousins murdered four young men and buried them with a back hoe on a remote country farm. The cadaver dogs were able to pinpoint where three of the victims were buried, 12 ½ feet deep (Here's a link to what I think is the best story about it: https://www.usnews.com/news/best-states/pennsylvania/articles/2017-07-22/finding-bodies-a-well-trained-dog-cant-be-replaced).
Several larger police departments in the United States have cadaver dog and handler teams, and some small ones scattered across the country — especially sheriff departments — partly because their work can tend to be more rural and cadaver dogs can be so helpful in searches in rural areas. But many law enforcement departments depend on volunteers for this function. A good volunteer dog-and-handler team can produce some excellent results. Those relationships between law enforcement and cadaver dog teams are often informal. But if you look at a disaster such as Hurricane Harvey here in the United States, which is still unfolding, you'll see that cadaver dogs will play an important role in helping recover victims. The majority of those dog teams will be volunteers.
Der Geruch des Todes has several audiences: law enforcement dog handlers, volunteer search and rescue dog handlers, and curious dog owners. What does your book offer to each of them?
I want my book to appeal to a diverse set of readers: that includes not only dog handlers and dog lovers, but people who love science, mystery, and history. To me, what is fascinating about working with dogs goes well beyond the idea of having your best friend at your side. Sure, that's part of it. I love dogs. I love to be with them. I spend a fair amount of time cuddling Jaco, our current German shepherd, when I want to relax on the couch. But working with scent-detection dogs immediately moves me into the realm of thinking about crime, legal issues, the search environment, the challenges of rigorous training — and even understanding the science behind scent. So the questions that engaged me when I was researching the book took me beyond cold, wet noses and wagging tails.
What's the typical kind of case you get called out to work on?
At the moment, I'm not deploying a dog. I have a wonderful German shepherd who is in training, and is certified to work, but I want him to have a national certification before I deploy him. It's important that one be able to prove in court that you have a dependable, consistent, rigorously trained dog. It's lucky that I love to train, as well as to do actual searches. I think most working dog people do, as that's how you spend the majority of your time: training.
During the 8 years that I deployed Solo, who is the subject of Der Geruch des Todes, we worked on a mixture of cases, from people who were missing with evidence that it was homicide, to Alzheimer patients, to cases where people suspected of a crime were missing and presumed dead.
Have you ever felt frightened during a search?
Yes. It's inevitable. That being said, it's important to not allow that fear to travel down the leash, where the dog picks up on it. Usually, I was only frightened for myself because the suspect was not yet in custody, and we were working in areas that were remote. Another time, we were working in an area where a farmer threatened to shoot the dogs if he saw them, though we had permission to search in the area. That made the fine hairs on the back of my neck prickle. Often, though, I'll be worried because I want to make sure my dog isn't harmed. Sometimes, it's as simple as searching alongside a busy road, and making sure the dog doesn't dash into traffic. Or working in an area where there are other physical dangers. Bad stuff can happen quickly on searches. It's the dog's job to use his nose, and it's my job to make sure the area is covered, and the dog is safe while he's concentrating on following scent.
Thank you Cat Warren, and please give Jaco a hug from me.
Read More
How far back in time can a cadaver dog's nose go? Twenty years? A hundred? Some dogs work as archaeology dogs, and the age of the graves they can detect might surprise you.
Cadaver dogs have successfully sniffed out Civil War and Revolutionary War-era graves. So the next step, using dogs at ancient archaeological sites, is not a far-fetched experiment. Andrea Pintar, a cadaver dog handler in Croatia, joins us today to talk about her archaeology dogs. Andrea has a team of dogs she affectionately calls her "four-legged pack." They work on grave sites dating back to 700 BC.
Where are you from and what do you do for a living?
I was born in Croatia and live near the capital city, Zagreb. I'm an architect at a government agency. Last year I started to study at Cambridge Ethology Institute to get my certificate as a Certified Applied Canine Ethologist. I hope I'll finish that in spring.
My second job is working with my team and my cadaver dogs for various European governments on finding remains of missing persons (usually crime victims or war victims). Before that I was an active mountain rescuer (within our national Mountain Rescue Service), working with dual search and rescue (SAR) dogs. Dual dogs search for both living and dead victims.
Tell us about your dogs!
We (my husband Christian Nikolic, our son Patrik, and I) live with 5 dogs. All of them are working dogs. All of them have some special skills which help us in our job. Let's start from the oldest one:
"Sattve" is 9.5 years old, a Belgian Malinois. She is my 4th and last regular SAR dog. She was trained to perform as a search and rescue dog for both living and dead victims on all terrains, including disasters and water search for drowned persons. She has participated in so many missions and findings that I don't count any more. She had a bad elbow injury, and for the last few years she has been working on less demanding terrains, searching for buried victims. She loves to work so much that I need to give her an opportunity to work. It's a compromise for that kind of dog.
The next three dogs are cadaver dogs, specialized for grave search. "Mali" is a 4.5-year old female Belgian Malinois. "Panda" is a 3.5 y.o. female Belgian Malinois. "Arwen" is a 2.5 y.o. female German Shepherd.
As you can see, I prefer female dogs for sniff jobs. It's a subjective choice. I'm much more comfortable with females. These three girls are trained as human remains detection dogs for searches of human remains in all stages of the decomposition process, including grave search, forensic searches, and historical searches (archaeology).
Our fifth dog is "Peper" is a 3.5 y.o. and he is the only male dog in the family. He's Chris's dog. He is a dual dog (like Sattve), working mainly as a tracking and disaster dog. Most of the time we use him for discovering "trafficking" victims (on ships and trucks).
You've been a cadaver dog handler for 15 years. How did you get started?
I have been in SAR dogs training for more than 15 years. I'm an international SAR dog instructor, and sport dogs trainer. 10 years ago, I started with dual SAR dogs and that was my "step into" the cadaver world. For the last 5 years I have been predominantly involved in cadaver dog training.
I started as a SAR dog instructor in Croatian Mountain Rescue Service (CMRS) and was the chief instructor for 10 years. During that time I was involved in few hundred missions. My experience from told me that for this kind of work we need dual SAR dogs, because lots of missing persons are already dead when a SAR mission starts. That was the "kick" to start training dual SAR dogs.
So, I created the licensing procedure for CRMS SAR K9 teams not only for dogs, but their handlers, as well. With that approach, the success of our SAR missions went up to 70%. Now I can say that SAR dogs should be trained as dual dogs.
Everything is done using clicker training and positive stimulation.
I noticed that there is a need for cadaver/human remains detection (HRD) dogs, above and beyond the ones we use for SAR. So, I started learning, reading, and travelling around to find out training and work of cadaver dogs. I started working on criminal "cold cases" with my team and realized I had just scratched the surface of the "cadaver K9 world".
I was lucky to meet some great people with the same interests I have, and now we have a good Cadaver K9 team. We work as a team because I could not do it on my own; all the documenting, search management, soil analysis… and many other things you need when you work out in the field.
I went to North Wales for a cadaver K9 seminar twice, and had a chance to see some good cadaver K9 teams working. My team and I also got the opportunity to work on few cold cases for some EU police forces. We also worked on WW2 mass graves. Our team cooperated with a wide range of law enforcement services around Europe (some I am not even allowed to name).
But as you probably know, the Balkan region is "explosive" and during our long history, we had a lot of wars. The last one was the Croatian liberation war in 1990s. And we did some mass grave work there as well. And we were successful.
During the spring of 2015, I spent some time in North Carolina, at the Western Carolina University (WCU), on their Forensic Osteology Research Station. It was a great experience for me.
From time to time I am called to do presentations or hold courses in Europe and Middle East, so I had the privilege to work with Qatar police, Turkish police and Gendarmerie, and the German police.
You've started working your dogs as archaeology dogs. How did you get into archaeological research?
Well, I'm very interested in the possibilities of and opportunities for a dog's nose. I need to feel and see what the limits of a dog's nose are. Because of that I have so many working dogs at home.
Also, archaeology is complements architecture, so it seemed natural for me to follow that path in my education.
Over the last few years, when I was starting the project of grave search with my dogs and after few very complex criminal cases, after finding and opening a few mass graves from WWII, it was natural to go back into the past to understand what a dog's nose can do.
You've tweeted about archaeological searches at Kornati islands and Karlobag in Croatia. Are those two different sites?
There were two sites: Karlobag and another site at Kornati islands. Kornati dates from 14th century.
The real challenge was "Drvišica" near Karlobag – that one is really very old, it dates back to 700 BC. And it was amazing.
Tell us about the site near Karlobag. Who is leading the research and what are they looking for?
Drvišica near Karlobag is a complex archaeological site which consists of a prehistoric hill fort with a necropolis dating from around 8th century BC., a Roman settlement, a late antique fortress, and a medieval church of St. Vid. Drvišica. It's situated on the Adriatic coast near Karlobag, below Velebit mountain. It is the biggest site of that type in Velebit area.
Due to its specific geomorphologic and climatologic characteristics, Velebit is extremely difficult for ground reconnaissance. Navigating sharp fissures and Mediterranean scrub vegetation require great physical effort which very much complicates the work. Low vegetation prevents good visibility of the sites and makes it difficult to access the location, while fissures tremendously impede walking and therefore slow the research progress.
Even harder is locating the whole area of the prehistoric necropolis. The prehistoric necropolis of the Drvišica hill-fort was discovered on the north terrace of the hill. A total of three graves were excavated. The discovered artifacts and radiocarbon C-14 analysis dated them to the middle of 8th century BC.
How did your dogs get involved as archaeology dogs?
One of my friends (who is a professional diver and he works on underwater archaeology sites) put me in touch with an archaeologist, Vedrana Glavaš, PhD., who wanted to try dogs on one of the sites (Drvišica on Mt. Velebit) she was working on.
We were both eager to go out on the field and try, so we scheduled a date just 3 days later. It was in June 2015 that dogs gave clear alerts on unopened tombs. We left the site pretty confused because I was very skeptical about the whole thing.
Due to the fact that summer season was coming and it is not best time to search with dogs, because high temperatures and direct sunlight kills bacteria which produce smell, we made the agreement to come back with the whole team in early autumn for one week and to try to work more intensively on several sites. You see, to find a specific smell we need special weather conditions, an appropriate amount of moisture, shade, and "normal" temperatures, so bacteria can start doing their work.
The site is on a hill. Does the terrain affect how a dog picks up the odor? Do odors run downhill from a grave, for instance?
One of the facts that surprised me most was that the dogs' alerts were directly on the headstone. I was expecting the primary smell pool to be downhill. When archaeologists opened the marked tombs, I found the reason why the smell was going nowhere: the bottom of the tomb is a natural big flat stone. Bodies were put on that stone, and the complete decomposing process happened on that stone. Geologically, Mt. Velebit is built of limestone and that kind of stone is porous and collects the smell inside. That can be the reason why dogs had an excellent opportunity to sniff and recognize the specific smell of human decomposition.
During the spring of 2016, we will try some other sites and different geological properties to find out what is going on and how the smell is preserved in different soil and bedrock environments.
How do your dogs alert to a find?
Sattve has barking alert. Mali primarily has passive alert but also can bark, and Panda and Arwen's primary alert is also passive: they lie down and point their nose into the smell source.
Radiocarbon dating indicates the graves date back to 700 BC. How old a grave can a dog still detect? Is 700 BC some kind of a record?
There is no written record of the oldest grave detected by cadaver dogs. However, I must emphasize that the age of the grave is not the crucial element in this kind of work. Dog handlers tend to stick only to the age of the grave. But, for positive results, you have to pay attention to important elements such as weather, type of soil, geology and so on.
Dogs are rarely used in archaeology world. I think the "Archaeology Dog Project" is just in its infancy. Dogs are perfect tools for archaeologists. Dogs offer a non-invasive method of searching the ground. Of course, dogs have limits, but now we need to find out what these limits are. The date of the site is obviously not among them.
Has the university been able to draw any conclusions about the people buried in the necropolis?
Unfortunately, tombs have previously been robbed. But, thanks to precise archaeological work researchers from the University of Zadar managed to collect some remains of the material culture that robbers didn't see or weren't interested in. These items, such as fibulae, pins, beads etc., show that Velebit's communities held intensive contacts with contemporary Mediterranean world. All these items are currently stored at the Department of Archaeology at the University of Zadar, where Vedrana Glavaš, the main researcher of the Drvišica site, analyzes them. An interesting fact is the tombs were used for multiple burials. The results of the anthropological analysis showed at least two persons were buried in each grave – usually an adult and a child. However, the site is still being excavated and more data will be available after several years of research.
Currently, Dr. Glavaš and I are working on a research paper about our field work at the Drvišica site.
The Ministry of Culture of the Republic of Croatia co-sponsored a brief film in English that shows Andrea's dogs searching the site, their alerting on previously unknown graves, and the archaeologists excavating human remains. It's worth a view!
Thanks so much for participating, Andrea — I think your work is absolutely fascinating.
Thank you. I don't think much about whether my work is fascinating or not. I'm thinking how fascinating the possibilities of a dog's nose are.
What's the most unusual thing your dog has ever sniffed out?
Read More
Dogs love stench. They are attracted to different fragrances than we are. They poke in garbage, sniff rear ends, and flop down on the beach to roll in dead fish. So it is not surprising that incidents of dogs discovering homicide victims sprinkle the history of criminal investigations. Most of those discoveries are accidental. Dogs out on walks led their unsuspecting owners to gruesome finds. But they are finds that aid investigators.
People have long used dogs for search and rescue or for tracking live criminals. Why not also the dead? Training of cadaver dogs began in the 1970s. Handlers hid objects that smell like death, such as chemicals or pulled teeth. They taught the dogs to track those odors in various kinds of weather and in different terrains. The dogs also had to distinguish between human and animal remains. The first police dog in the United States exclusively trained for cadaver searches started working in 1974. "Pearl," a yellow lab, made her first find in New York State. She found the clandestine grave of a Syracuse College student, buried four feet deep.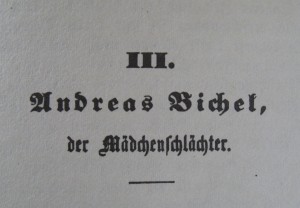 Purposeful use of dogs to search for murder victims might be much older. In 1809, a court clerk used his dog to perform a cadaver search in a German murder investigation. The case was of serial killer Andreas Bichel, known as the Bavarian Ripper (or Mädchenschlächter in German). Two girls disappeared mysteriously in 1806 and 1808 in Bavaria. One had disappeared after visiting Andreas Bichel, but he claimed she had left his home with another man. In May, 1809, one of the girl's sisters visited a tailor and recognized part of the missing girl's skirt in his workshop. She contacted the police, who questioned the tailor. He said Andreas Bichel had given him the material to make him a vest.
The court opened its investigation the following day and searched Bichel's house, finding more clothing from the missing girls, but no bodies. Two days later, the court clerk decided to take his dog for a walk past Bichel's house. This dog most certainly did not have the training of a modern cadaver dog. Nevertheless, it alerted repeatedly at a wood shed. This led to a search of the shed, the discovery of the victims buried behind the shed, and Bichel's confession and conviction. He had lured the girls into his house with the promise of a magic mirror that would show them their future husbands. Then he killed them for their clothing. Bichel was executed on June 9, 1809.
No where in the case report did the dog receive special credit. But the Bichel case might be the first recorded instance of forensic use of a dog to search for a cadaver. And for the history of cadaver dogs' work in law enforcement, we can all express our thanks.
What are some of the unusual things your dog has found using its sense of smell?
Some literature on point:
Paul Johann Anselm von Feuerbach, Andreas Bichel, der Mädchenschlächter. In: Altenmäßige Darstellung merkwürdiger Verbrechen (3rd ed. Aalen: Scientia 1984;  1st ed.Geißen: Müller 1811).
Andrew Rebmann, Edward David & Marcella H. Sorg, Forensic Training and Tactics for the Recovery of Human Remains (Boca Raton, Florida: CRC Press: 2000)
Cat Warren, What the Dog Knows (New York: Touchstone: 2013)
(c) 2014 Ann Marie Ackermann
Read More