No history of a war is complete if it focuses solely on men. Women's experiences, at home and on the battlefield, shaped the postbellum world. Women, perhaps more than men, held society together during the war and rebuilt it afterwards.
Giselle Roberts uses diaries and letters to tell documentary stories about women of the American South. She joins us for an interview.
Giselle Roberts is an Honorary Research Associate in American History at La Trobe University (Melbourne, Australia), and co-editor, with Melissa Walker (Converse College), of the Women's Diaries and Letters of the South series by the University of South Carolina Press.
You can read more about her biography below, or visit her website here. I've added some quotes by American women.
You live in Australia, Dr. Roberts. What got you interested in the American Civil War?
I was nineteen when I read the Civil War diary of Sarah Morgan. I discovered it in my local bookshop one Friday afternoon. For weeks I picked up the book, and put it back on the shelf. I was intrigued, but not entirely convinced it was a story for me. Sarah was a young, white, upper-middle-class woman from Baton Rouge, Louisiana. Her family were slaveholders and she was a loyal Confederate. I wasn't a historian, and the story didn't resonate with me as a reader. I hesitated. Then one day, I bought it.
The book was Charles East's edition of the diary; the first time Morgan's account had been edited and published in its entirety. I read the first few pages, and I was hooked. I finished the book that weekend.
I was in my first year of an Arts degree, studying Australian politics and reading book after book on the American Civil War. I discovered that La Trobe University's American history faculty was ranked in the top three in the southern hemisphere, changed my major, and studied under Pulitzer Prize winner Rhys Isaac and acclaimed labor historian, John Salmond. I received my PhD in 2000. I have published three books since then, including the courtship correspondence of Sarah Morgan and Francis Warrington Dawson. After reading Sarah's Civil War diary, I wanted to know more!
"I only wish that the doctors would let us try and see what we can do!" – Kate Cumming, Confederate nurse
How is a documentary edition different from a monograph?
Documentary historians edit and annotate primary source material to tell a story. Editors can, and do, work with professional sources such as account books or government documents. Others, like myself, work with first person accounts such as diaries, correspondence, editorials, oral history interviews, speeches, or memoirs. Historians studying the twentieth century have a new frontier at their disposal, including email and blogs. Whatever the source, it's the editor's job to provide the narrative structure, the genealogical and historical context, and the interpretive framework to allow the reader to navigate, and appreciate, the story.
"We hear nothing, can listen to nothing; boom, boom goes the cannon all the time. The nervous strain is awful, alone in this darkened room." – Mary Chestnut, southern diarist during the Civil War
What kind of books are in the Women's Diaries and Letters of the South series by the University of South Carolina Press?
The Women's Diaries and Letters of the South (WDLS) series publishes documentary editions of letters, diaries, memoirs, editorials, and oral history interviews created by women residing in the American South from the colonial era to the present day.
The series has a strong Civil War collection. We have published the diaries and letters of doctors, plantation mistresses, and young women. One of my favorite books in the series is A Northern Woman in the Plantation South: Letters of Tryphena Blanche Holder Fox, 1856-1876. Tryphena was a teacher from Massachusetts who married a doctor from Plaquemines Parish, Louisiana. Her correspondence provides a middle-class portrait of life in the South from the late antebellum period through Reconstruction. It is fascinating indeed.
We have also published several books on twentieth-century women, most notably Melissa Walker's Country Women Cope with Hard Times, a wonderful collection of oral history interviews with women from eastern Tennessee and western South Carolina. As daughters and wives, they milked cows, raised livestock, planted and harvested crops, worked in textile mills, sold butter and eggs, and practiced remarkable resourcefulness.
We have several exciting book projects in production, including an anthology on the Progressive Era featuring the documentary stories of nine remarkable women.
"Oh mother! you northern people know nothing of the horrors of war…" — Tryphena Blanche Holder Fox, teacher from Massachusetts who married a doctor from Plaquemines Parish, Louisiana
History, especially, military history, is so often a man's world. How do women's diaries and letters contribute to our understanding of Civil War history?
Women's letters and diaries of the Civil War era mostly provide us with a privileged white view of the home front. In the South, which is my area of specialization, white women wrote about their struggles to maintain domestic life in the face of mounting Confederate defeats, Union occupation, the loss of slaves, and a crippling economy of scarcity.
But it's not the only view we have: there were women on both sides who were spies, soldiers, and nurses. Some women lived with their husbands in military camps, and wrote home about their experiences.
Documentary stories allow us to peek through a window into the random, messy complexity of human experience in another time and place. It's wonderful to know what women thought about the war effort and nationalism, but I also find the glimpse into their everyday lives most intriguing.
"A woman is like a tea bag – you never know how strong she is until she gets in hot water." – Eleanor Roosevelt
What are you researching now?
At the moment, my research has moved into the late nineteenth and early twentieth centuries. Melissa Walker and I are currently editing a book on the Progressive Era. The thing I enjoy most about this period is the documentary diversity. In the nineteenth century, diaries and letters were overwhelmingly written by privileged white women. By the early twentieth century, we find a growing body of material by African American women, for example. Our new book will feature a range of women from different backgrounds, and that is very exciting. We are working with several contributors who have identified some remarkable documentary stories.
"But alas! nothing that I had ever heard or read had given me the faintest idea of the horrors witnessed [in the hospital ward]." – Kate Cumming, Confederate nurse
How often to you make it to the United States?
At least once a year. Since I took up the position as co-editor of the WDLS series, I have travelled annually to South Carolina. I love "talking shop" with Melissa and Alex Moore, our wonderful acquisitions editor at USC Press. Of course, no trip to South Carolina would be complete without some time in Charleston, my favorite city in the United States. The Lowcountry is magical – Charleston, Beaufort, and Bluffton make a delightful road trip. Then there is the food. After a day of exploring, I always look forward to sampling the local dishes such as shrimp and grits, and a slice of coconut cake, of course!
What's your favorite book on the Civil War Era?
There are so many wonderful books! Scarlett Doesn't Live Here Anymore by Laura Edwards examines the lives of slaves, free blacks, poor whites, and the white elite, and is a comprehensive introduction for those wanting to learn more about women of the South. Nina Silber's Daughters of the Union provides a wonderful overview of the different struggles that confronted northern women during the war.
Anne Sarah Rubin's A Shattered Nation is a brilliant examination of Confederate nationalism, and Stephen Ash's A Year in the South: Four Lives in 1865 is an important book and a joy to read.
My favorite documentary editions include Sarah Morgan's diary, A Southern Woman of Letters: The Correspondence of Augusta Jane Evans, and Lisa Grunwal's and Stephen Adler's epic collection, Women's Letters: America from the Revolutionary War to the Present. To make sense of it all, Kimberly Harrison's The Rhetoric of Rebel Women examines the ways in which the everyday speech of privileged white southern women contributed to the culture of the Confederate home front. It's a great book.
And, of course, I am looking forward to PBS's Mercy Street. Anya Jabour, author of Scarlett's Sisters, worked as a consultant on the series, so we are assured of its historical accuracy.
"Oh! what a luxury it is to weep…" – Augusta Jane Evans, southern author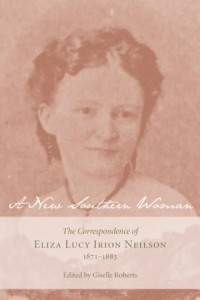 Giselle Roberts is author of The Confederate Belle (University of Missouri Press, 2003), and editor of The Correspondence of Sarah Morgan and Francis Warrington Dawson (University of Georgia Press, 2004) and A New Southern Woman: The Correspondence of Eliza Lucy Irion Neilson, 1871-1883 (University of South Carolina Press, 2012).
Her articles on Sarah Morgan Dawson have appeared in Lives Full of Struggle and Triumph: Southern Women, Their Institutions, and Their Communities (University Press of Florida, 2003), and the South Carolina and Louisiana editions of Southern Women Lives and Times (University of Georgia Press, 2010 and 2016).
Giselle Roberts has published over 60 book reviews in scholarly journals including the Journal of American History, Journal of Southern History, Journal of Women's History, South Carolina Historical Magazine, and Civil War Book Review.
Which women do you admire for the roles they played during a war?