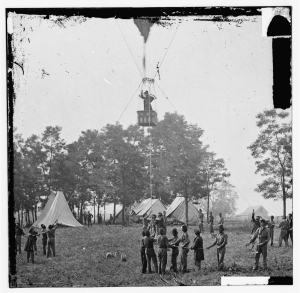 Spycraft rose to new levels during the Civil War. One of the most interesting innovations was ballooning. These five fun facts provide a brief introduction to what was then cutting edge military technology.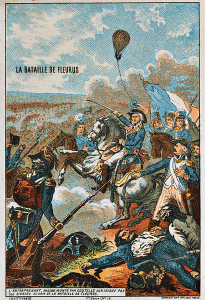 Civil War balloons were not the first balloons used for military reconnaissance. France created the Corp d'Aerostiers in 1794 to promote the use of wartime balloon reconnaissance. In the United States, Thaddeus Lowe developed balloons from a more durable material, won an army contract, and formed the Aeronautic Corps, forerunner of the U.S. Air Force. Lowe used portable hydrogen generator wagons to inflate his balloons.
The Union Army was the first to combine ballooning with telegraph communications. That was Thaddeus Lowe's brainchild. Balloons rose up to a thousand feet over the landscape, offering expanded vistas. Using binoculars and sometimes even telescopes for more accurate observation, ballooners observed troop movements, spotted artillery locations, and sketched maps. Troop size was estimated by counting tents. Since it wasn't possible to shout urgent information down from that height, the balloonists used signal flags or telegraph lines to communication their observations to the ground. Sometimes the balloonists dropped handwritten notes, attached to bullets, overboard. Most Civil War balloons remained tethered to the ground. That facilitated air to ground communication.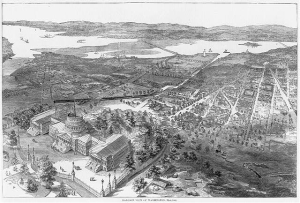 Confederates quickly developed countermeasures to frustrate Union aerial reconnaissance. During Lowe's maiden military flight on August 29, 1861 over Arlington, they pointed their cannon skyward and baptized Lowe with artillery fire. That was our country's first instance of ground to air artillery. There are no recorded instances of a balloon being shot down during the war on either side, however. The distances were probably too great for accurate fire. Confederates also created false impressions for Union airborne observers. They doused their campfires and created fake artillery by painting logs black and posing them as cannon.
The South used balloons too. During the Seven Days Campaign, for instance, Confederate reconnaissance balloons hovered over the countryside surrounding Richmond. Robert E. Lee ordered Edward Porter Alexander to observe Union movements, for which Alexander used a balloon. Lee's balloons were inflated with hydrogen. Johnston used a hot air balloon. I haven't been able to find a photograph of a Confederate balloon, and if anyone knows of one, please comment and provide a source!
Both sides launched balloons from ships: the North from the George Washington Parke Custis and the South from the CSS Teaser. Those ships were our country's first aircraft carriers.
Have you ever taken a balloon ride? How well could you observe the ground?
Literature on point:
Civil War Trust, Civil War Ballooning
Steven D. Culpepper, "Balloons of the Civil War." Master's thesis, U.S. Army Command and General Staff College, 1994.
Howard Brinkley, Spies of the Civil War: The History of Espioage in the Civil War (Bookcaps, 2012).